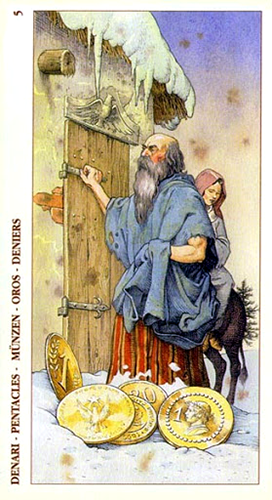 Five of Pentacles
Today's card — the Five of Pentacles — indicates a need to rethink what you value, especially when it comes to your own sense of worth or self-esteem.
In this version of the card we see an old man standing in the snow outside a closed wooden door. His clothes are shabby and worn, inadequate against the cold. His wife shivers on their mule behind him.
There are five gold coins scattered on the ground beside them. They don't even seem to notice the coins. The woman seems dejected and uncertain, and her husband seems hesitant to knock. Perhaps they've been turned away before and have come to expect the same this time. 
This card is tied to Saturn in Taurus or the second house. Astrologically this relates to hardship and turmoil, business failings, loss of revenue, and financial decline. But it also says a lot about personal values and self-esteem. We don't always realize how connected these are to one another.
In this respect the Five of Pentacles can also refer to feelings or loneliness or rejection. But like the couple in this card, you don't want to make that assumption before you discover it to be true. They could just as easily find comfort, community and warmth on the other side of that door.
Ask yourself whether your own sense of worth has become fragile to the extent that it's caused you to miss out on opportunities. Perhaps there are underlying feelings of of inadequacy, or maybe it's pride that keeps you from reaching out. 
The Five of Pentacles reminds us that sometimes we all need a little help and that help is always nearby. Don't let your worries turn into self-fulfilling prophecies; turn them instead into the motivation that gets you moving forward again, and gets you back on the right path.
The card used for today's tarotscope is part of the Tarot of Durer series which pays homage to the German artist of the Renaissance era, Albrecht Durer. Written by Manfredi Toraldo and illustrated by Giacinto Gaudenzi. This is a Lo Scarabeo deck, distributed by Llewellyn. 
Check out more daily tarot scopes or visit our Shop




"




Chrisalis




$3.99 per minute








New Clients:
First Paid Session Only!
3 Minutes Free!



Flat-rate sessions available in 10-, 30- or 60-minute increments: Choose from the menu below:








Melodie 

$3.99 per minute

$3.99 per minute


New Clients:
First Paid Session Only!
3 Minutes Free!



Flat-rate sessions available in 10-, 30- or 60-minute increments: Choose from the menu below: