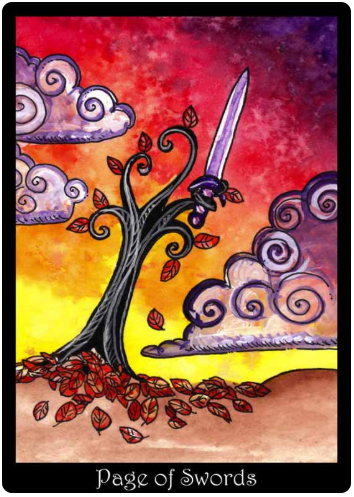 ARIES: Page of Swords

This month should be loaded with opportunities for you to go back and clear up some unfinished business. With your ruling planet (Mars) still retrograde, you may be dealing with a sense of urgency to tie up loose ends and put the past behind you.
An important part of this is going to be acknowledging and then learning from your mistakes.The Page of Swords — this version from the Tarot of Trees —  is all about clearing the air and cutting to the chase. It's about seeking out the truth and being honest with yourself,  even when it hurts.
It's also about communications, ideas, information and news. The Page of Swords is generally very curious, a good judge of character, quick to size up others and able to see through ulterior motives and agendas.
Like all the Pages, it's a messenger card so you want to pay attention to any messages you receive. You want to remember that things are not always as they seem. And while it's not the time to take things at face value, although you don't want to be so focused on ferreting out hidden information that you become paranoid.
The Full Moon lunar eclipse this month is going to be exactly conjunct that retrograde Mars. This should make for some high energy days; just be sure you choose your battles wisely as it can also manifest as impulsive or irrational behavior. You may uncover a deception or meet with someone whose motives prove to be disingenuous. Or you may have to be the bearer of uncomfortable news yourself, in which case you find yourself needing to deliver it carefully and diplomatically.