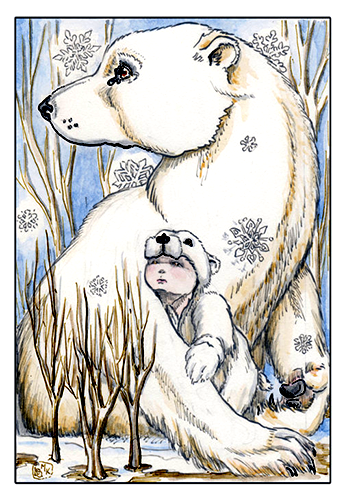 Aries: The Emperor
This month, with 6 planets in your career and money sectors, it 's going to be time to step up and approach your responsibilities from a more serious and authoritative standpoint.
The Emperor card is all about power, success, reputation and public standing. But these are all relative terms and are not necessarily related to profession. They're just as likely tied to responsibilities around the home or within a group of peers.
In this version of the card — from the Stolen Child Tarot — the Emperor is a polar bear looking off into the distance as he keeps protective watch over a young changeling child. The ground is frozen solid, what little brush there is is sparse and snowflakes are falling all around them.
As fierce a guardian as this papa bear may be, there's a gentle, protective quality about him too. This is in line with Emperor archetype, which is also fatherly and paternal.
The message behind this card is one of taking care of business. It's not the time to be passive or wishy-washy. It's all about stepping up and taking control of a situation that requires a firm hand and authoritative presence.
Although there are masculine elements to the Emperor card, the references don't only apply to men. It can refer to a single mother, a career-woman, or a woman with important responsibilities as well. It can also refer to a man in your life (or someone new coming in) who embodies these qualities.
Whether you are a parent doling out "tough love" or a supervisor having to strong arm an employee or just taking back your power in a personal relationship, remember it's important to temper that with kindness and compassion. Just like the bear in our card, a protective gentle approach is just as important as a firm steady hand.
TAURUS: Eight of Wands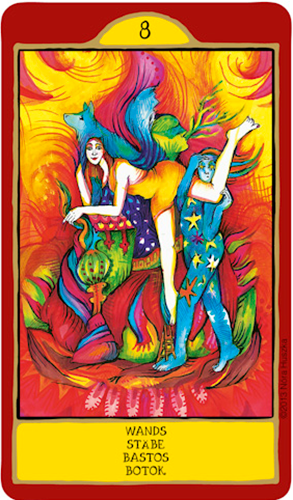 It may feel like you've got a lot on your plate this month, and that things are moving very quickly, courtesy of a lineup of planets things moving through your 9th house, and Venus (your ruler) in mutual reception with Uranus.
The Eight of Wands — this version from the fabulous Gypsy Palace Tarot — refers to progress, mobility and rapid change, usually for the better. You could be bursting at the seams with new and fresh ideas, juggling interests or overseeing different projects that all seem to be nearing completion at the same time.
This card refers to being decisive, making the most of your time and cutting through whatever distractions stand in your way. There may be a lot going on around you — like the woman in the center of this card — but the Eight of Wands encourages you to remain focused and engaged in the task at hand.
Look at all of the swirling colors in this card. There's a lot happening there — and certainly some distractions. But there's also movement, creativity and energy which are hallmarks of this card.
This is also a networking card. It relates to exchanging ideas and interacting with like-minded people. Blogging, disseminating information, and expanding social horizons are all indicated.
You could receive news from afar; be preparing to embark on a spiritual journey, or planning a literal journey that takes you out of your daily routine and into uncharted territories. At least for now, you want to be taking the initiative to make things happen rather than sitting back and allowing life to just pass you by.
You want to strike while the iron is hot so that you can take advantage of the opportunities that are presenting themselves to you this month. It may involve a few risks, but with so much going on for you now your chances of acing them are high.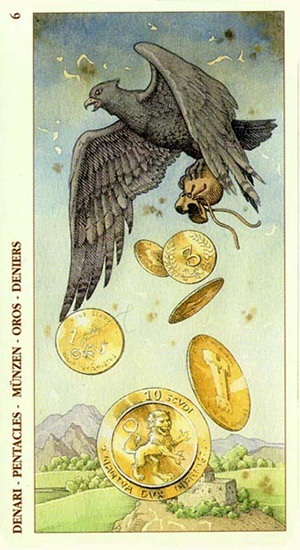 GEMINI: Six of Coins
This could be a very good period for you financially, despite your ruler (Mercury) being in retrograde for most of the month.
With the North Node in your money sector and 4 planets moving through your "other people's money" sector, chances are good that you're going to be moving money around, with some coming in and some going out.
The Six of Coins is a card of giving and receiving, sharing the wealth, being willing (and able) to lend a hand to others while being open to receiving the same for yourself.
You may run into unexpected good fortune or find yourself the recipient of someone else's generosity. Or if you're in a position to help someone else then by all means do so.
This version — from the gorgeous Tarot of Dürer — shows an eagle flying high with a sack full of coins and dropping them from overhead. They scatter in multiple denominations onto the kingdom below.
The Six of Coins is about giving and receiving. It's about sharing. It's about random acts of kindness. And it's about the exchange of energy — which often (although not always) takes the form of money or financial assistance.
This is something to think about this month. Kindness and consideration, compassion, generosity. But most of all gratitude. These are all Six of Coins attributes. This isn't about giving what you can't afford to give. That can create hardship and ultimately resentment. And it's not necessarily about giving money anyway.
Whether you're the benefactor this month or the recipient, know that this is a never ending cycle and you'll find yourself in both roles. Be prepared to jump in and participate fully — either through offering help to another or expressing gratitude for the help you receive.
Cancer: King of Cups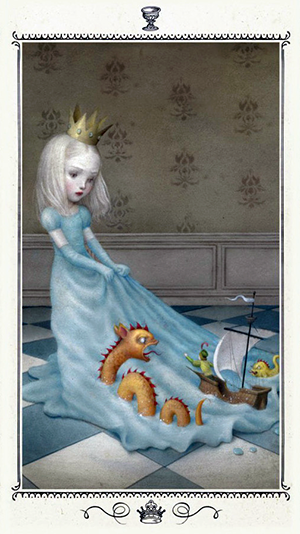 The King of Cups is intuitive, sensitive and wise. And in this version from the beautiful Cecolli Tarot — he is a she. And what, pray tell, do you think she is doing looking like a little girl in a nursery playing with her toys? If you look closely though you will see that the gown she is wearing actually mimics that of a sea.
The boat, with the young man… whose hands are held out to her, is actually sailing towards her and the sea dragons who surround him in an effort to hold him back are also creatures within the "sea" of her dress.
With Saturn, Pluto, Venus, the South Node and even the Moon (at the start of the month) all in your relationship sector, relationships — and potentially relationship conflicts — are bound to take center stage
The King of Cups says it's okay to play around a little with what you are feeling, nothing is going to come up and grab you as long as you keep the "nightmares" away from you.
These nightmares may encompass a relationship where you are keeping the other person at arm's length in a bid to keep yourself safe because your feelings have been hurt in the past and you are not willing to open your heart again and let them in.
If you find this is the case and the other person is willing to go through thick and thin to break down your barriers even at great risk to themselves then you may wish to cut them some slack and shake out those demons which are not only holding you back but holding the whole situation back as they stop anyone getting close to you.
Sit yourself down, brush yourself off, find the inner child within yourself and set forth again under your own terms knowing that your heart is safe.  This may be the stuff that dreams are made of, even if you have to deal with more than a few challenges along the way.
LEO: Four of Swords
You may feel like you need to take a breather this month or just focus on getting some much needed rest.
This is the Four of Swords — from the World Spirit Tarot. It stresses the need for a spiritual retreat as much as it does a physical recuperation, although both may be on your radar.
Three of the four swords are placed within the stained glass church windows that are positioned above the woman in this card. They point up toward the heavens. The fourth one is mounted horizontally beneath her, a reference to the need for stillness and quiet.
The crutch off to the side indicates a need for rest and recovery. It may be figurative or literal. You may have overextended yourself in recent days or pushed yourself past the point of exhaustion and are now faced with the consequences of having taken on too much.
This is the essence of the Four of Swords: it encourages you to ponder, reflect and meditate rather than "act." It speaks of detaching from the whirlwind of activity around you and choosing to observe rather than participate.
Like the woman in this card, you might be thinking of getting away from it all. You could be feeling the strains of mundane chores and responsibilities; or maybe you just long to escape from the hustle and bustle of day-to-day life.
Take some time for yourself this month and listen to the needs of your body (and your soul). If you can't get away there are other ways to regain your sanity. Meditation, breathwork, self-imposed silence, etc. — any one of these can help you to de-stress and restore your equilibrium.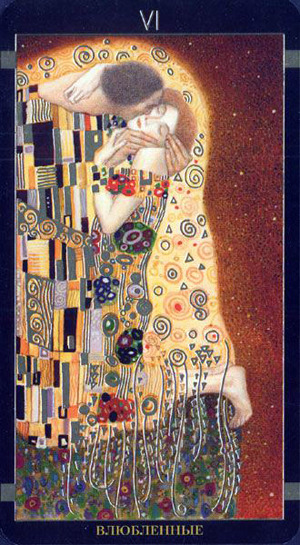 VIRGO: The Lovers
With a lineup of planets moving through your romance and relationship sectors this month, relationships are bound to take center stage.
That doesn't mean they will be without complications. With your ruler (Mercury) turning retrograde and with the New Moon conjunct Neptune in your relationship sector, you may find yourself struggling with making the right decisions where matters of the heart are concerned.
You could find yourself having to choose between two lovers, or between love and something else — such as friendship, work, family commitments or even a desire for personal freedom.
By the same token, you could find yourself developing romantic feelings for someone you'd previously thought of as only a friend. But be careful that you're seeing things clearly and not just projecting romantic ideals onto someone who's not what they seem.
The image in this Lovers card — this version from the Golden Tarot of Klimt — is of "the Kiss," one Gustav Klimt's most famous paintings. It is believed that he and his muse Emilie Flöge were the models for this painting.
The Lovers card often refers to a decision or a dilemma involving matters of the heart. Perhaps you're wondering where you stand in a relationship; or maybe you're questioning your feelings about another.
This card also sometimes refers to a literal love triangle. An illicit affair. A clandestine relationship. Or one that would be frowned upon by your family, friends or church. You may be torn about whether to proceed with a relationship that's still new. Or you may be considering throwing the towel in on one that has grown stale and old.
Either way, know that your decision doesn't affect only you. There may be long-standing repercussions for whatever choice you make, so take the time to weigh the consequences before you decide. You may have to make sacrifices  to attain your "perfect relationship." But like the couple in the painting depicted on this card, if you are lucky enough to find it, it will all have been worth it in the end.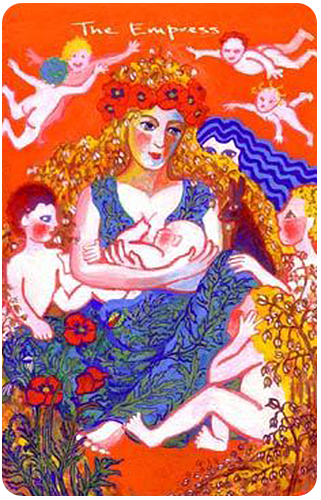 Libra: The Empress
This month is going to be more about getting in touch with your feminine side — your loving, nurturing and caring side — than it will be about getting down to "business."
The Empress card — this version from the beautiful Wild Green Chagallian Tarot — is associated with beauty, creativity and love.
She represents the aspects of ourselves that evoke the principles of feminine strength and power. As the counterpart to the Emperor card, this archetype is all about the yin or feminine aspects of parental authority and protection, regardless of gender.
Where the Emperor focuses on wisdom, stability and responsibility, the Empress relates more to nurturing, comfort, support and emotional security. It is the "Earth Mother" archetype personified.
This card represents fertility and abundance. Surrounding yourself with all things living and growing. Being in touch with the earth and your sexuality, as well as your ability to create and foster life.
The Empress is a mother, as depicted in this card. But that doesn't always translate literally. It can refer to mothering impulses, such as tending to the needs of others.
She's surrounded by flowers and herbs in this card, and if you look closely you can see that even her headdress and gown are "alive" with plant-life and forest greenery. This is the essence of the Empress card.
You do want to make sure you're not neglecting your own needs while you're busy taking care of others. You want to tend to your own gardens and nourish your own soul. But as you can see in the imagery in this card, what you give out will come back to you in ways that reverberate endlessly.
Scorpio: Three of Wands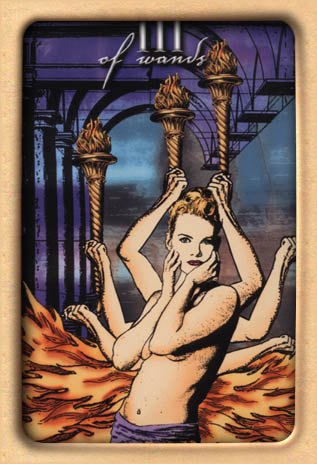 This month will likely shape up to be very busy for you, with so much going on that it's difficult to know at times which fire to put out first.
Look at the energy of those flames in this card — the Three of Wands from the Artists Inner Vision Tarot. They lick at you and set you on course to being so busy that you don't know where to start. You may
start one thing, stop it and start something else.
Nothing seems to be finished and you are even at a loss as to what your next step should be. It may be a good time to sit down, gather your thoughts around you and write down a list of what you wish to accomplish during the next few weeks and then slowly and methodically work your way through it.
Then again, with the energy in this card you may find you cannot bear to do something so slow and tedious and just rush in again only to find yourself back at square one… "square one" being… where do you start again?
There is also a tendency for you to be reliving memories from your past and as you try to go about your daily chores unwanted thoughts arise that further take you from your goals.
Because the Three of Wands is a card of enterprise and ingenuity, you do want to keep moving and strike while the fire is hot. This card encourages you to push past your limitations and expand your horizons.
While it may mean stepping outside of your comfort zone and exploring uncharted territories, there's no shortage of opportunities. And while you may run into pitfalls or have to take detours along the way, know that these are often blessings in disguise that can open up a whole new world of possibilities.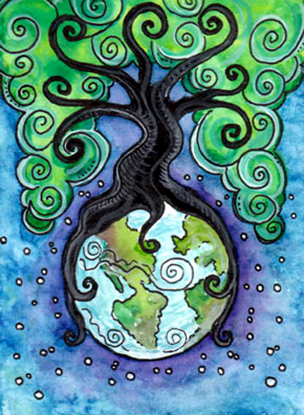 Sagittarius: The World
While some people are busy looking at the glass as half-empty, you're seeing it as more than full. You're focusing on how far you've come and how much you've achieved over the last several months
If you sit back and take stock of what has actually changed for you will get the sense that while some things change others stay the same and this is neither good nor bad.
Everything is as it should be for you to enter the next phase of your plans. The journey that began with the Fool ends here with the "World," and a sense of accomplishment, fulfillment and completion.
Like the Fool, you've come full-circle, from instinct to essence to progress to development, as you end one cycle and begin a new one.
This is the World Card from Dana Driscoll'sf Tarot of Trees. It represents endings and new beginnings.You must tie up loose ends and close the door on one chapter in your life — even if that leaves you with feelings of longing or regret.
You can see the tree in this card sitting on top of the world, encircling and embracing it. It grows upwards towards the heavens and the world just keeps on turning — just as we must grow and change with the natural rhythms of life.
The World card is a card of both fulfillment and completion. With that in mind, it's time to put the finishing touches on projects that are almost finished, and also time to rest anything that just didn't pan out for you. You're preparing to start a whole new journey, and in doing so will want to with as clean a slate as possible.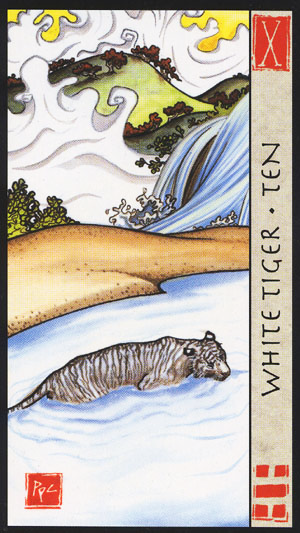 CAPRICORN: Ten of Swords
There may be times this month where you feeling like you're swimming against the tide, or like you're surrounded by turbulent waters that are rising all around you.
But if you look at the imagery in this card , you can see that while the  waters are swirling and raging around the Tiger in the card, he doesn't fight against the current; he surrenders to its movement finds a place of calm in its center.
This is the Feng Shui Tarot's version of the Ten of Swords. It's called the White Tiger Ten in this deck, a reference to the completion of the Tiger's tumultuous journey.
Surrender is a big factor in this card. Surrendering to the knowledge that what you may have wanted so desperately was not what you needed at all.
As this card is often tied to fighting a losing battle — and ultimately giving up the fight — there's a sense of liberation that comes from cooperating with the Universe rather than pitting yourself against it.
This is the essence of the the imagery in this card. It encourages you to go with the flow, find creative solutions to your problems and align] yourself with unseen forces.
You may have to concede to a few losing battles, but you'll also want to look at how it's brought you to where you are today. Are you not now a stronger and better person as a result? Take some time to put the past behind you and focus on what lies ahead. You may see all that's led you to this moment as a blessing in disguise, as long as you're willing to embrace the changes to come.
AQUARIUS: Two of Cups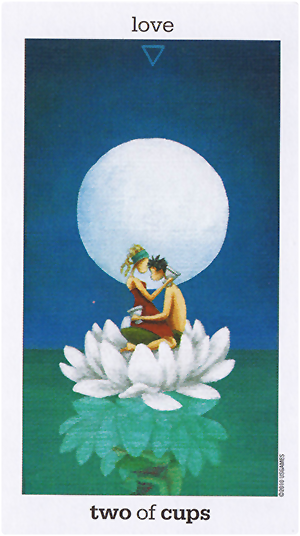 As Venus moves into your sign this month — and forms a mutual reception with your ruler, Uranus — you're going to be presented with opportunities to connect with your "other half."
Whether you're in a relationship or just looking, the Two of Cups is all about falling in love — either opening yourself up to new experiences or reigniting a connection with someone you're already involved with.
It's this process of falling in love that reveals to us — in perfect clarity — ourselves at our very best. It's where we put our best version of ourselves forward and the Universe responds by opening up unanticipated doors.
The Two of Cups is known as the "Love" card as it refers to that love at first sight sense of finding your other half. It's the mutual attraction card, the "soul mate" card, and so much more. It's the process of falling in love or renewing a love connection that replenishes itself over time.
There's a synergy that pulls two people together and echoes their feelings back to one another. In this respect the Two of Cups is more about falling in love with yourself, as seen through your partner's eyes.
In this card — from the Sun and Moon Tarot — a couple embrace in a giant lotus blossom under the light of the full Moon. A portion of their images are reflected below them on the surface of a tranquil pool.
The Two of Cups often refers to a brand new relationship — one that hasn't fully gotten off the ground. It's more about falling in love than it is being in love. It's more that heady state of limerence than the settled state of long-term relationships. Whether it can stand the test of time is still up in the air. But established relationships can also use a reminder of what it was like to fall in love.
If you meet someone new this month, consider it an opportunity for growth. It could be the yin to your yang — or it could just be a friend who shows you the true meaning of the word. You may also be working on revamping your current connection or reuniting with a loved one. Whichever it is, be grateful for the opportunity to see yourself through someone else's eyes.
Pisces: The Star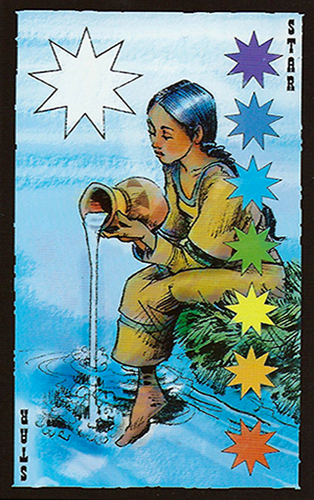 This could be a really important month for you, with your ruler (Neptune) conjuncting both the Sun and Moon (New Moon) in your sign. This is a time for counting your blessings and being grateful for all you have.
In recent months you may have been too focused on what you lack — or what you feel has been missing in your life, But the Star card speaks of putting all that aside while you focus on what you do have.
This is a very calm and peaceful version of the Star card. In it, we see a young Native American woman sitting on the banks of a river, replenishing it from the water in her vessel.
She sits with her eyes closed and her feet dangling comfortably in the water. A large white star shines above her to the right, while seven smaller stars — in the colors of the rainbow — are lined up on the on the right.
There are elements of tolerance and acceptance here too. The gentle imagery of the young woman in Native garb coupled with the rainbow stars act as symbolic reminders that the world is full of different kinds of people and all of them belong here. Even the act of pouring water into the stream reminds us of how important it is to "give back."
As you start this New Moon cycle, think of the plans and dreams you had that have fallen by the wayside. The Star card is full of hope and inspiration but it's not exactly well grounded. There's a need to work in order to manifest your dreams, as they're not about to fall into your lap.
Whether you're making new plans or dusting off the old ones, now is the time to make a commitment to seeing them through. And don't forget to add a healthy dose of gratitude: in other words, remember to "thank your lucky stars!"
—————————–
This month's tarotscopes feature some of Ask the Astrologers all time favorite cards. We hope you like them too! 
Don't forget to check out this month's Horoscopes too!
March 2019 Tarot Scopes
By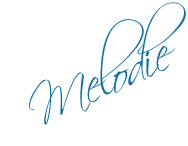 Personal Consultations:
If you would like to schedule a session with me, there are two ways to go about it. You can either purchase time either per minute (via Click4Advisor) or in blocks of 10-, 30- or 60-minutes (via PayPal). If I'm not showing as available, or if you want to purchase blocks of time through PayPal, please feel free to email me.







Melodie 

$3.99 per minute

$3.99 per minute


New Clients:
First Paid Session Only!
3 Minutes Free!



Flat-rate sessions available in 10-, 30- or 60-minute increments: Choose from the menu below: