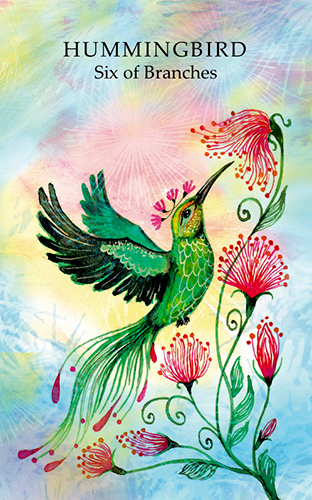 Hummingbird
Today you may be feeling more sociable than you have in recent days. While it may not be exactly a popularity contest, you're bound to be seen as someone that people want to know and get close to.
At the same time you could have so many opportunities that it's hard to spend too much time focusing on any one relationship or connection. Like the Hummingbird in this card you might find yourself flitting from one social engagement to another.
The Hummingbird — or Six of Branches — is the Animal Wisdom Tarot's version of the Six of Wands. It's known as the Victory card in many decks and can very well manifest for you as some sort of professional recognition.
You may be feeling like you're on the road to success. And whether it happens now or it happens for you months down the road, remember that it's always a process and not an event.
As colorful and vibrant as the Hummingbird and flowers are in the foreground of this card, you almost don't notice the fireworks in the background. It tells you that there's cause for celebration and you might as well enjoy it.
Don't shy away from celebrating your achievements with others. Even if it feels premature at this stage know that you're well on your way and that the fun doesn't have to stop once you reach your goals. Embrace the accolades that are coming your way as confirmation that you've earned and deserve them. And don't forget to thank those who've helped you along the way.