Here is the Ask the Astrologers Weekly Astro Forecast for the week of Jan 29, 2017 – Feb 4, 2017:
As we start the Chinese New Year, it's no surprise that we're already beginning to hear the Fire Rooster Crow! Add to the Saturday's New Moon in Aquarius and Mars' ingress into Aries and we can see why tensions are not only heating up, they're coming to a boil.
On Sunday Mercury and Pluto come together in Capricorn. This transit is exacerbated by its involvement in a tense aspect to Jupiter and Uranus (a loose t-square) which can not only increase the desire for privacy and see us wanting to play things closer to the vest Mercury conjunct Pluto) but can also cause people to become combative and oppositional. One positive aspect of this transit — among many — is the urge to get to the bottom of things, leaving no stone unturned.
This aspect — especially in Capricorn — is a "take no prisoners" aspect that can be powerfully persuasive or brutally domineering. On the upside it can motivate people to think and act critically. But on the down side it can be sardonic, derisive and cruel.
Venus moves into its degree of exaltation (27° Pisces) on Monday and is joined there by the Moon on Tuesday. This is Venus' most coveted placement, with the exaltation strengthening its natural inclinations toward love, beauty, harmony and cooperation.
Venus is also in mutual reception with Jupiter, and as Jupiter is exalted in Cancer (ruled by the Moon) the Moon / Venus conjunction is further reinforced. Perhaps we can make headway during this transit toward healing some of our rifts.
But maybe not quite yet. Mercury and Uranus come together on Wednesday in hard aspect (a square). This aspect can be confrontation and can lead to intense disagreements and arguments, especially amongst those who think they know "everything."
This aspect can bring out the rebel in you and everyone around you. You may feel like bucking the system or challenging other people's attitudes. This aspect likes to go against the grain so be sure you're really invested in whatever cause you're devoting yourself to and not just doing things for shock value.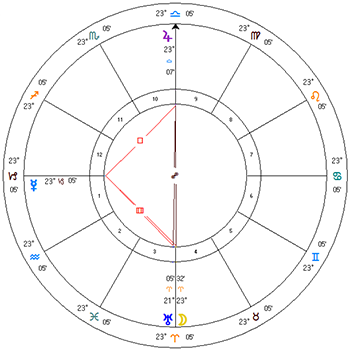 The Mercury / Uranus square is further intensified when Jupiter joins in on Thursday and turns it into a tense t-square with Mercury at the apex. We might as well bring the Moon in Aries in for good measure.
This is a highly volatile and antagonistic configuration that may see people lashing out at one another and drawing distinct lines in the sand.
Political and ideological differences (Jupiter square Mercury in opposition to Uranus) can lead to verbal tirades and outbursts (Mercury square Jupiter and Uranus), while emotions are apt to be explosive (Moon conjunct Uranus in Aries).
And while Mercury is also sextiling Chiron — an aspect that can awaken in us a little more compassion and empathy for those who are less fortunate — on this date, it's best to not allow ourselves to become too complacent.
There's a strong "social activist" theme flowing through this t-square that compels us to make sure our voices are heard.
On Friday, Venus moves into Aries — where it will remain for the next several months (6 months in all, aside from a brief re-entrance into Pisces in April). This is due to the Venus retrograde cycle which begins in early March.
Venus is in detriment in Aries, as Aries is the sign opposite Venus' natural ruler, Libra. While there are said to be some disadvantages to having a planet in detriment — usually due to societal norms and expectations rather than any deficit in the archetype itself — there are some wonderful benefits as well.
Venus in Aries is able to put its heart on the line and go "all in" when it comes to love. It's ardent and passionate about matters of the heart and sees itself as a bit of a maverick. This is a great time to put yourself out there, without fear. It's a time for taking risks in love and for opening yourself up to new opportunities.
Also on Friday, Mars inconjuncts the North Node (and forms a corresponding aspect — a semi-sextile — to the South Node). It will also semi-sextile Neptune, since Neptune and the South Node are current conjunct.
This aspect be somewhat sobering. The inconjunct to the North Node can see you feeling out of step with your goals and frustrated by what feels like questionable timing. The semi-sextile to Neptune and the South Node can see you feeling apprehensive or even melancholy.
While the Mars / Node / Neptune aspect may tone down some of your of that Venus in Aries enthusiasm and drive, it probably won't do much to offset it. It is a good time though to pay attention to your body and to heed your inner voice.
Finally, on Saturday, the Moon moves into 1st quarter phase, at 15° Taurus. The Moon is exalted in Taurus and fairy quiet on this day: it trines Pluto and then Mercury in Capricorn, before it goes void of course by day's end.
The Moon in Taurus is earthy, sensuous and solid. It's calm and practical, and can be slow-moving or overly cautious. It prefers to savor meaningful experiences, much like someone would savor a meal or a bottle of fine wine.
This can help you to end the week on a rather mellow note, we you gear up for next week's transits, which include Mercury changing signs, Jupiter going retrograde, and a Full Moon Lunar eclipse.
That's it for this week, see you next week!
Here is this week's astro calendar; click on it to view it full-sized.

---
Weekly Astro Forecast —
Jan 29, 2017 – Feb 4, 2017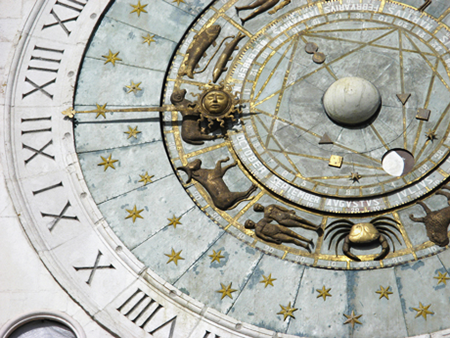 By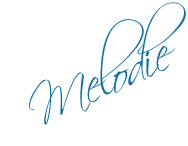 ---
Thinking about learning Astrology? I highly recommend Stephen Arroyo's Chart Interpretation Handbook and Demetra George's Astrology for Yourself.
Don't forget to check out more Weekly Astro Forecasts and our Monthly Horoscopes too!
Want to see where these transits are hitting your natal chart? Check out our Free Natal Chart Calculator.
You can also read more of my articles here.
Personal Consultations:
If you would like to schedule a session with me, there are two ways to go about it. You can either purchase time either per minute (via Click4Advisor) or in blocks of 10-, 30- or 60-minutes (via PayPal). If I'm not showing as available, or if you want to purchase blocks of time through PayPal, please feel free to email me:







Melodie 

$3.99 per minute

$3.99 per minute


New Clients:
First Paid Session Only!
3 Minutes Free!



Flat-rate sessions available in 10-, 30- or 60-minute increments: Choose from the menu below:

This forecast also appears on the Psychic Scoop website.