Here is the Ask the Astrologers Weekly Astro Forecast for the week of Mar 26, 2017 –  April 1, 2017:
This week starts on Sunday with a both a strong feminine emphasis (Venus separating from its inferior conjunction to the Sun with the Moon in Pisces) and a strong masculine emphasis (Mercury and Uranus coming together in Aries).
Starting with Venus transit, it has now moved behind the Sun and left its evening star placement where it will remain hidden behind the Sun's rays until it re-emerges (as a morning star) on March 31st. With respect to the Moon in Pisces, this is a very feminine and rather other-worldly Moon placement, made all the more so by the fact that it's in balsamic phase and by its conjunction to Neptune later in the day.
The Moon / Neptune conjunction in Pisces is loving, compassionate, creative and highly impressionable. It can increase psychic awareness and make you more susceptible to outside influences. It's mystical and ethereal, but can also be incredibly naive.
There's a bit of a dichotomy here between the Venus / Moon / Neptune transits and the Mercury / Uranus conjunction that takes place on that same day. This is high energy aspect — especially in Aries —  that encourages us embrace our own unique contributions to the world and to stand up for what we believe in.
It's bold and defiant. It can be radical and idiosyncratic. It's a mover and a shaker, a champion for the underdog and an advocate for personal freedom and independence.
As Uranus is the higher octave of Mercury, this transit brings flashes of insight and brilliance to the table. This is a time of tapping into your higher-consciousness. And you may be doing it without even realizing it. You might hear yourself speaking and wonder: "where did that come from?" Or hear something that you've heard hundreds of times before and realize that NOW it makes sense.
Mercury / Uranus in Aries is an incredibly powerful combination. It's progressive, innovative and pioneering, Don't waste it vegging out in front of the tv. Express your ideas, speak your truth, learn something new and push your mind to its limits.
Mars sextiles Neptune on Monday as the Moon moves further into Pisces and conjuncts Chiron. The Moon / Chiron conjunction is sensitive, creative and idealistic. You may find that your intuition and psychic perceptions are off the charts during this time.
The Mars / Neptune aspect can see you tuned into the music of the spheres like never before. This aspect reminds you that you are one with the Universe and everyone in it. It's creative and compassionate and can inspire you to become a better person.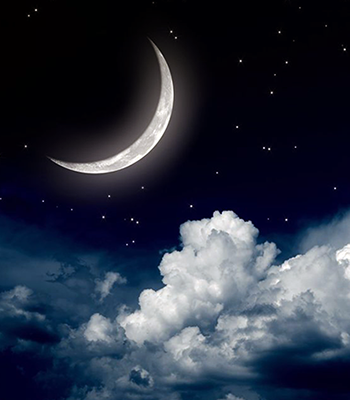 On Tuesday we have a New Moon at 7° Aries 37. This takes place Tuesday the 28th at 2:57 am UT (or Monday the 27th at 10:57pm EDT).
The Sabian Symbol for this degree is: "A woman's hat with streamers blown by the east wind." This symbol implies opportunities for a spiritual awakening; being led toward Eastern philosophies or religions. It can also signify a desire to let the day take you where it will, which is very fitting of the Aries archetype.
New Moons bring opportunities to plant seeds that we can then coax to maturity over the duration of the (28-day) lunar cycle. This marks a time during which the focus should be on exploring the many possibilities before you.
As Aries is the sign associated with fresh starts and new beginnings this should be a time for taking a leap of faith and going after your heart's desires. It's about facing your fears, taking risks and trying something new.
Moving onto Wednesday, we have a Mercury / Saturn trine, which can see you getting a lot accomplished in the workplace. It's a good time to make plans and to assess progress that's already been made. This is an incredibly disciplined and productive aspect, so if you want to get something done now is the time to do it.
Mercury / Saturn is focused and rational. It's good for ironing out details and expressing yourself in a clear and concise way. It is also good for serious discussions: you can go a long ways toward clearing up uncertainties and getting everyone on the same page.
Speaking of serious discussions, these can get a lot more intense on Thursday, when the ongoing Jupiter / Pluto square becomes exact. This aspect has been moving into position for some time, and can manifest as conflicts or power struggles.
You may find yourself dealing with people who are self-righteous, judgmental or even fanatical about their belief systems. You may also have to look at areas that you yourself have been rigid and unwilling to listen to another's point of view. This is not the time to get into heated political or philosophical debates, as you will find that the line is drawn firmly in the sand on both sides.
Things should calm down though by Friday when Mercury moves into Taurus, joining Mars and the Moon. Mercury in Taurus is patient, practical and serene. It can be slow and methodical, mainly because it doesn't see the point in getting its feathers ruffled over things that are likely to iron themselves out over time.
Also on Friday, Venus rises heliacally. This means it reappears on the Eastern horizon as a morning star. With Venus in Aries, it's still in mutual reception with Mars and expressing as a more masculine energy than it was when it slipped under the Sun's rays at the beginning of the week.
As it moves through the final (or first — depending on how you look at it) degree of Aries on Saturday, before it retrogrades back into Pisces, we have the unique experience of seeing Venus in mutual reception with one planet (Mars) on one day and a different planet (Jupiter) the next.
You may feel like you have a foot in two worlds: the passionate, dynamic masculine Mars world and the amorous, romantic, feminine Venus world. While this will likely be a temporary state, one thing's for sure: the week ends with an intensified focus on love, romance and relationships all taking center stage.
That's it for this week, see you next week!
Here is this week's astro calendar; click on it to view it full-sized.

---
Weekly Astro Forecast —
Mar 26, 2017 – Apr 1, 2017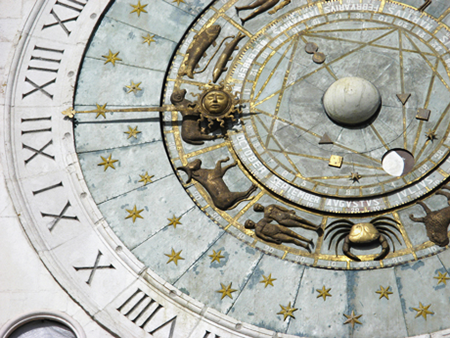 By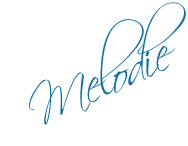 ---
Thinking about learning Astrology? I highly recommend Stephen Arroyo's Chart Interpretation Handbook and Demetra George's Astrology for Yourself.
Don't forget to check out more Weekly Astro Forecasts and our Monthly Horoscopes too!
Want to see where these transits are hitting your natal chart? Check out our Free Natal Chart Calculator.
You can also read more of my articles here.
Personal Consultations:
If you would like to schedule a session with me, there are two ways to go about it. You can either purchase time either per minute (via Click4Advisor) or in blocks of 10-, 30- or 60-minutes (via PayPal). If I'm not showing as available, or if you want to purchase blocks of time through PayPal, please feel free to email me:







Melodie 

$3.99 per minute

$3.99 per minute


New Clients:
First Paid Session Only!
3 Minutes Free!



Flat-rate sessions available in 10-, 30- or 60-minute increments: Choose from the menu below:

This forecast also appears on the Psychic Scoop website.