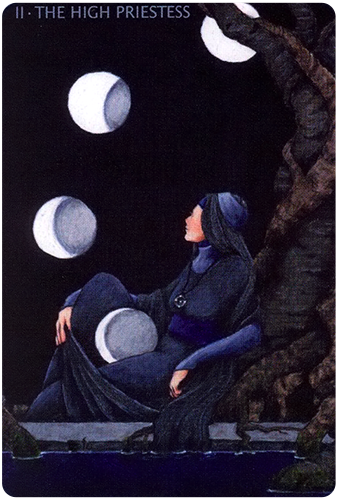 High Priestess
As the cycle of the full moon is upon us today together with an eclipse it is time to go within yourself and call upon your intuitive gifts to assist you in getting what you want.
You don't need to force anything as the card of the High Priestess is not about force, rather, it is about delving deep within yourself and aligning your own higher power to use in manifesting the life you desire.
Notice how the woman sits on the earth for grounding, leaning against the tree for nourishment while she turns her head towards the sky, although not quite high enough to see the moon as it reaches its state of fullness.
She holds within her hand the moon depicted at the beginning of its cycle which occurred about 2 weeks ago in the sign of Gemini… a sign known for its quick thinking and mental agility.
Today's full moon eclipse occurs in the sign of Libra, another air sign possessing the qualities of balance and fairness and it is within these qualities that you can turn in order to draw on your strength to accomplish that which you desire.
The High Priestess is a card of knowledge specifically drawn upon from esoteric teachings.
The darkness of night in this card alongside the deep blue robe worn by the High Priestess and her unseen eyes implies she dwells within the shadows however she does not dwell in darkness. She dwells in a place within her own intuition where she shapes her own fate according to her will.
Perhaps you have been going through a situation where you have tried everything to logically think your way out of it and come up with an answer that is in your favour.  If you have been doing this and finding you are banging your head off a brick wall perhaps it is time to go inside yourself… listen to your intuition… tune into your feelings and enjoy the "stillness" that resides within you.
The one piece of advice you need today is this.  Full moon's and eclipses are full of unharnessed energy.  If you don't want something to get out of hand so quickly that you lose control over the outcome you need to take a leaf out of the High Priestess's book and reside in your own "stillness"… a place where anything can happen.
The deck used for today's tarotscope comes from the beautiful Anna K. Tarot, by Anna Klaffinger. This deck was originally self-published and is available as such through Anna's website; Llewellyn has picked up the rights to a commercial version which is available on the Llewellyn website. 
Check out more daily tarot scopes or visit our Shop