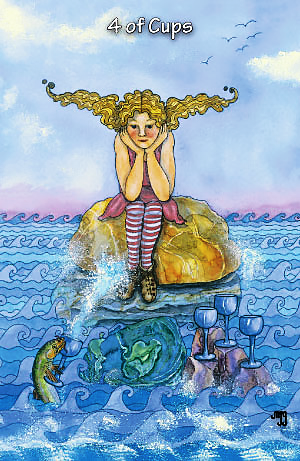 Aries: Four of Cups
This month, with your ruler (Mars) opposing Neptune, you may be dealing with feelings of apathy, uncertainty, disillusionment or discontent — especially regarding your personal relationships.
The Mars / Neptune opposition can see you focusing on what's missing in your life, rather than what's right there before you. It can see you wondering whether there's something (or someone) else out there that would excite or inspire you.
This is the Four of Cups from Mary Griffin's beautiful (and sadly, out-of-print) Hezicos Tarot. The figure in the card looks absolutely bored to tears, oblivious to the beauty surrounding her, and the mischief taking place beneath her feet.
The is the essence of the Four of Cups. There's also generally a lack of energy, which may mean that for the first couple weeks of September, you won't feel like doing much of anything.
One of the positive aspects of this card though is that it reveals to you exactly what's "wrong with this picture" and allows you the opportunity to make it right.
It can get you thinking about how things could be — in an ideal world or at least with respect to following your dreams — and then what you can do to make those dreams a reality. While you may start out thinking "what's the point?" you'll have a clearer idea of what's worth salvaging and what could use a little more work in the end. .