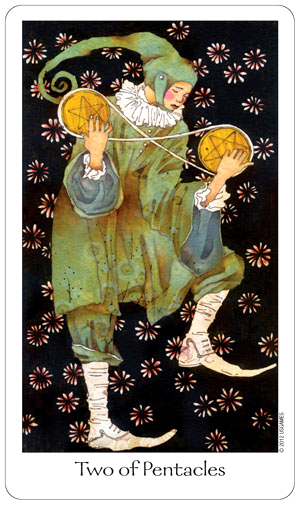 Two of Pentacles
You're likely to be weighing the pros and cons of an important decision today. Whether this is related to business, relationships, money, or even a new way of approaching existing problems, it's bound to be weighing heavily on you.
Pentacles relate to tangible or material concerns. In this respect it could be as simple as juggling funds — as in trying to keep afloat financially. You may have to figure out what needs to be attended to right this very minute, and what can safely be put aside until later.
There's a certain agility that's required here. Even though in this version of the card the Pentacles are encircled by a cord (fashioned into a figure 8 or infinity symbol) it's still necessary to hold onto both of them so that you don't drop the ball.
Patience and dexterity are also necessary, to not only maneuver around the obstacles that may be preventing you from managing your priorities, but also for getting in sync with your own intuition.
The infinity symbol itself is important: even though the figure in this card may appear to be in a hypnotic trance, he's more likely just aligning himself with the natural rhythms of day to day life. It takes as much concentration as it does skill to be able to pull that off.
No matter what you may be weighing today — and what you may be juggling — keep in mind that there are pros and cons to every decision. The key is to find a way to balance them so that each is given proper consideration.
This card is part of the Dreaming Way Tarot series, authored by Rome Choi and illustrated by Kwon Shina, distributed by US Games.
Click here for more daily tarot scopes or visit our Shop. .