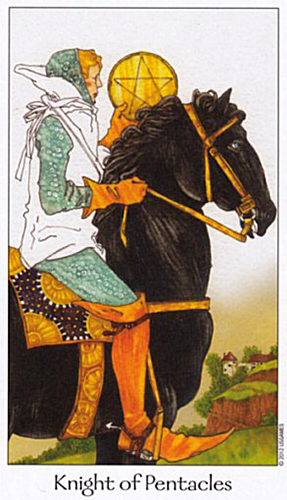 Knight of Pentacles
Today's Moon/ Pluto conjunction in Capricorn may see you thinking about pursuing your goals with more dedication and dogged determination than ever.
The Knight of Pentacles — this version from the Dreaming Way Tarot — speaks of working hard and making money, as you proceed toward ultimate success.
You may not be where you want to be just yet, but you've got your eye on the future and are taking steps to make that happen. You may be thinking about going back to school or taking a second job — doing whatever it takes to set your plans in motion.
The Knight of Pentacles doesn't just sit back and wait for success to fall into his lap. He knows that it takes hard work and discipline to reach his goals. He's willing to do what it takes — not matter how long it takes — to get to where he needs to be.
If this is you, know that everything you put into your profession right now will ultimately pay off. You may not see immediate results but it's all cumulative and will round out your experience to the extent that you will one day know it was worth it.
If this is someone in your life, know that he or she is not afraid of hard work. This person is dedicated, efficient and reliable — and has his (or her) eye on the prize. The challenge is knowing that you're not where you want to be just yet and that there's still much work be done. But the knowledge that you've succeed in attaining your goals will make it all worth it in the end.