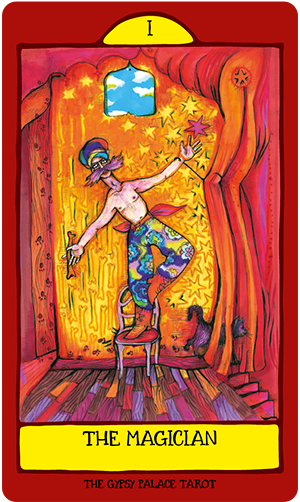 The Magician
This is a high energy day with just as much potential for things to go haywire as there is for magic to transpire.
The Magician card encourages us to make the best use of all of the resources at our disposal. Especially during stressful times. The Magician — like the Fool — already has everything he needs. But unlike the Fool, he's consciously aware of it.
Sometimes it's about learning to harness those energies and sometimes it's about keeping them afloat. And sometimes it boils down to a precarious balancing act.
Notice the black cat exiting the stage on the right. He's left his paw prints all the way down the wall and across the backdrop. He's traipsed all over the stage yet doesn't seem to have distracted the Magician at all. That's the kind of composure you wan to cultivate during this time or at any time that life become stressful. 
Mars and Uranus are in opposition today. This can be a extremely volatile opposition, and has been known to correlate with cataclysmic events. But it doesn't have to, and certainly not in your world.
In my book there are two ways to handle oppositions. The first one has to do with "owning" one side of the opposition and projecting the other one outwardly, onto another person or an event. The other — and my preference — is to see it as an opportunity to balance and integrate those opposing forces.
The first option often results in crisis (when it comes to Mars and Uranus, it doesn't matter which one you're owning and which one you're projecting — it's not going to be a picnic). And the other has the potential to create "magic" (especially when it comes to Mars and Uranus).
Your goal therefore should be head off conflict today by working on balancing the "oppositions" in your own life. You may not be able to avoid confrontational people, but how you respond to them is entirely in your hands.
That ability to harness your inner conflicts will ultimately provide you with the tools that can help you to handle the outer ones.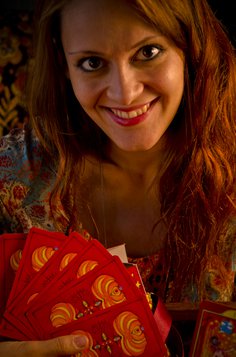 Today's card — the Magician — is card is part of the Gypsy Palace Tarot series, designed by Nora Huszka.
The creation and marketing of this deck was the result of a successful campaign and funding through Indiegogo.com. 
Her beautiful deck can be purchased directly from her website, or from her Etsy storefront. Used by generous permission. Thank you Norah!  
Be sure to check out her Youtube channel and visit and like her Facebook fanpage too! 
Check out more daily tarot scopes or visit our Shop




"




Chrisalis




$3.99 per minute








New Clients:
First Paid Session Only!
3 Minutes Free!



Flat-rate sessions available in 10-, 30- or 60-minute increments: Choose from the menu below:








Melodie 

$3.99 per minute

$3.99 per minute


New Clients:
First Paid Session Only!
3 Minutes Free!



Flat-rate sessions available in 10-, 30- or 60-minute increments: Choose from the menu below: