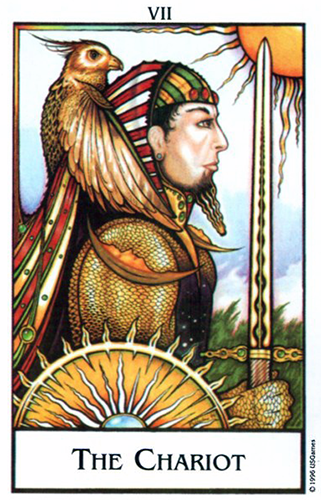 Aries: The Chariot
With Mars (your ruler) now moving forward again in its own sign, this should be a great month for you to work on harnessing your personal power and manifesting your goals.
This is the Chariot card from the New Palladini Tarot.  It's associated with courage, determination, stamina and self-control.
The Chariot card is associated astrologically with the sign Cancer, which the Moon rules. In that respect it's a reminder of how divergent forces in all of our lives — light vs. dark, positive vs. negative, instinct vs. action, etc. — compete with one another for control.
The figure in the card stares straight ahead, wearing a Sphinx hood and golden chainmail, and weilding a mighty sword. The Chariot's wheels replicate the Sun shining high in the sky, just as the hawk's gaze replicates the Charioteer's.
You may be called upon to both maintain control and harness the opposing forces in your life. Whether this is related to relationship, career, or the dual desires within your own psyche, the challenge will be to find a way to pull your energy inward and funnel it outward into one solid direction.
You can accomplish a lot through sheer force and determination — as long as you're aware of the need to focus your energy in one primary direction. You'll have find a way to balance the diverging energies in your life. But if you can "pull it together" you'll make great strides toward accomplishing your goals.