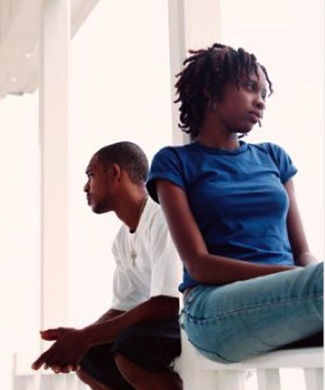 This week Melodie addresses concerns posed by Laura, who's having second thoughts about her relationship with a recently separated man. She struggles with his seeming ambivalence; questioning whether he's as invested as she is, or just afraid of commitment.
My name is Laura. I'm in love with a man who's married but getting a divorce. We have such a phenomenal connection, like none I've ever felt, but I'm not sure what to make of his commitment to me.
I'm very frustrated with this; it feels like I'm always last. I'm trying to be patient but he's started dragging his feet again on finalizing the divorce. He says he wants to be with me but doesn't make the effort. I'm ready to throw in the towel!
I just don't know if he's going to finally get his act together and make this a reality or if I should just move on. I would appreciate any help you can give me on this.
~ Laura
Hi Laura — First of all let me say that there are a lot of connections between these two charts, but they're not all good or easy by any means. My sense in looking at this is that you have two very different ideas about what you want in relationship and it's going to be hard getting on (and staying on) the same page.
I absolutely do not feel that you are "last on his list of priorities." This connection is way more meaningful to him that you're conscious of right now. And possibly more than he's conscious of. This is because you've both gotten into a sort of rut that is currently manifesting as a stale-mate.
Your love planets are almost in perfect harmony with one another. You came into this world with a solid example of how relationships should be and what roles each partner should play in them. In fact it's a very traditional orientation — with your Venus in Capricorn and your Mars conjunct Saturn. You don't appreciate drama and don't like having to play guessing games when it comes to this man's feelings, actions, or behaviors.
He's a lot less "black and white" than you are — and a lot less decisive. He may seem commitment phobic when he's actually just more pragmatic than romantic. It doesn't mean he's inaccessible: it means he processes feelings less emotionally than some. His Venus is also in Capricorn — which makes for a nice sense of simpatico between you. He admires your strength of purpose and sees you as someone he can respect. But his Moon and Mars are in Libra and in square (hard aspect) to that Venus. This explains not only his fear of making the wrong move, but his indecision when it comes to making any move. He's constantly weighing the pros and cons of every decision — not just this one.
Unfortunately, transiting Saturn has come along and is now impacting on that configuration. Within the next few weeks it will also be making an aspect to your Venus as well. This can slow things down even more, but can also increase your impatience and frustration to the point where you feel like you have to put your foot down. I feel that this is going to peak in the middle of April and will come to an all-or-nothing showdown by the end of that month. In your shoes I wouldn't give him an ultimatum, but would be prepared to walk away if he hasn't taken steps to rectify the situation by that time.
As always we'll be offering astrological insights into questions submitted by our readers. Although names will be changed and birth data omitted (in order to preserve confidentiality), each column will feature actual questions submitted by readers. Click here for more information about us.
If you would like either of us (or both) to take a stab at your questions, please email us, or submit them (along with the birth date, time and place of birth for each person) right in the comments section below. Remember, all comments are moderated, so we'll be sure to edit out your birth data and any personal or identifying information before it's publicly posted. If you have any concerns about this process feel free to message us here. Although we won't be able to respond to every question, we'll select those that best suit the current astrological themes and post our responses here.
Personal Consultations:
We're also both available for more personalized and in-depth sessions, in 30- and 60- minute increments:  If you would like to purchase as session with either of us, through chat (yahoo,  MSN , AIM, Gtalk or Skype) or phone, please email us to set up an appointment first.
Personal Consultations:
If you would like to schedule a session with us, there are two ways to go about it. You can either purchase time either per minute (via Click4Advisor) or in blocks of 10-, 30- or 60-minutes (via PayPal). If we're not showing as available, or if you want to purchase blocks of time through PayPal, please feel free to email us:







Melodie 

$3.99 per minute

$3.99 per minute


New Clients:
First Paid Session Only!
3 Minutes Free!



Flat-rate sessions available in 10-, 30- or 60-minute increments: Choose from the menu below:





"




Chrisalis




$3.99 per minute








New Clients:
First Paid Session Only!
3 Minutes Free!



Flat-rate sessions available in 10-, 30- or 60-minute increments: Choose from the menu below: