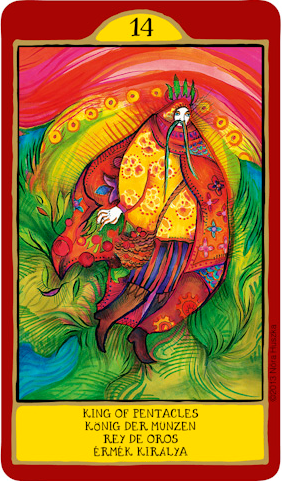 Aries: King of Pentacles
This month, with five planets (and the New Moon) in your 10th house, you'll be focusing on career and your plans for the future. You might be thinking about starting a business, feathering your nest, or looking for ways to establish security for you and your loved ones.
This is the King of Pentacles from the Gypsy Palace Tarot. He's a robust and colorful King. He's clothed in the finest royal attire. He's vibrant, spirited and energetic: you can see that he's got places to go. Yet he's also very open and generous. There's not an ounce of stinginess or pettiness about this King.
The phrase "if you want something done you may as well do it yourself" speaks directly to you, but may not always be in your best interests. If you struggle with trusting that things will get done without your input, keep in mind that giving up control and allowing others to show you what they're made of can benefit you more in the end.
This may be someone coming into your life and if so, know that he or she is there to teach you those qualities. But if, on the other hand, you've been focusing too much on what you lack or what's been missing in your life, it's time to rethink the messages that you're sending out to the Universe.
Remember the universal laws attraction: they're as present as ever in this card. You 'll need to shift your energies to those of prosperity-consciousness and gratitude in order to fully appreciate the blessings of this King.