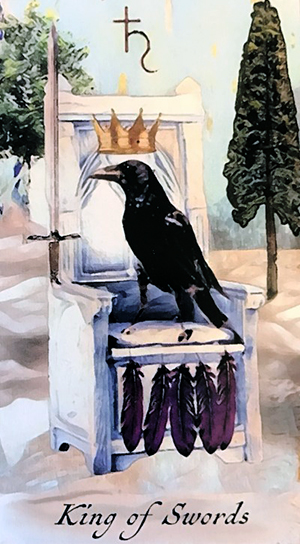 Aries: King of Swords
This month, with your ruler (Mars) joining Saturn in Aquarius, it's going to be time to put on your thinking cap and bring forth your problem solving skills. Like the King of Swords in this card — from the wonderful Crow Tarot — you need to be alert and observant.
The King of Swords is intelligent, strategic and analytical. He's inherently impartial. He doesn't mince words, and he doesn't listen to excuses. He makes his decisions based on logic and reason rather than compassion and empathy.
He's a no-nonsense individual who is expected to mete out justice with a fair and authoritative hand. He may be a parent, a supervisor, a judge, or even a friend that steps in to give you a reality check when you need one most.
As with all court cards this can also refer to you — or to a state of mind that you need to develop in order to preserve a sense of order in your life. You may have felt taken advantage of by someone who's overstepped their bounds and this card encourages you to resolve that problem by taking a more authoritative stance.
The King of Swords encourages you to be decisive and to start thinking ahead. It asks you to clear away the debris and work on attaining better focus.
And it challenges you to step away from emotional attachments and make your decisions based on what is right, fair, and most importantly best for you in the long run. it says it's time to get clear about the direction you want to take in your life. And to plan ahead accordingly.