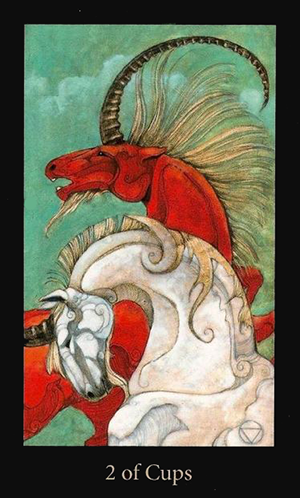 Two of Cups
Sparks may fly for you today in the romance department. Whether you're in an established relationship or just venturing out into the dating scene, there's an animal magnetism present that gets you in sync with others who are on the same wavelength. This is the essence of the Two of Cups.
The Two of Cups refers to an attraction or a bond — a "love connection" — with someone you've developed an interest in. There's also an implicit "opposites attract" energy present here, as seen in the magnificent creatures depicted on this card.
The red horse is clearly "masculine:" He's confident, driven, passionate and aggressive. The white horse is more "feminine:" she's timid, gentle, passive and subdued. These terms don't refer to gender stereotypes; they describe a union of opposites regardless of sex or sexual orientation.
The concepts of opposites attracting, sexual / primal urges, and anima / animus projections are all beautifully referenced here. The masculine and feminine archetypes as depicted in this card are just as powerful as they are simplistic.
While the urge to merge is going to be particularly strong, you can take comfort in the knowledge that maintaining your identity is a welcome part of this process.
The card used for today's tarotscope — Two of Cups — is part of the Mary-el Tarot series by Marie White, published by Schiffer Publishing. Used by generous permission. Used by generous permission. Original art, as well as full-sized prints, are also available on her website. Please check out and "like" this deck's Facebook Fan page.
Check out more daily tarot scopes or visit our Shop