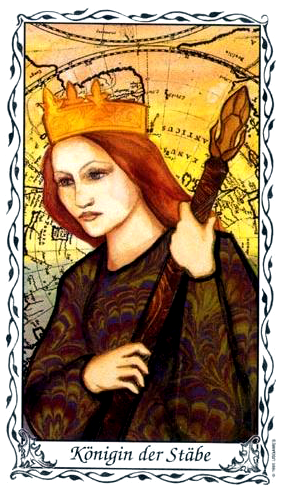 Queen of Wands
Today's card — the Queen of Wands — encourages you to conduct yourself with fairness, grace and integrity in all of your dealings with others.
The Queen of Wands — like all of the court cards in the tarot — can refer to a person, an event or a part of yourself. She embodies the feminine or yin aspects of Fire (wands) energy: creativity, passion, enthusiasm and drive.
She's strong and dynamic, stands out in a crowd, possesses leadership qualities and elicits respect from others. She's also very worldly and knowledgeable.
In this version of the card, the Queen stands tall and proud with a jewel-tipped scepter in her hands. A gold crown rests on her head and a world map stretches out behind her. Even in this simple rendition her command and authority are clear.
If this is a person in your life, know that she's honest and impartial and will treat you with respect. She may be a supervisor, a parent, a friend or even some facet of yourself that has long been dormant.
If the card refers to you, see it as a reminder that you do possess these qualities and may need to reincorporate them into your personality. The presence of this card encourages you to recapture the essence of the Queen of Wands and put her to good use.

You may find yourself needing to take charge of a situation that you've been passive about in the past. Or you may need to step up and exercise authority over others. Whatever role you find yourself in at this time, know that the Queen of Wands appears to assist you in taking the high road and to leading with a passionate, fair-minded hand.
The card used for today's tarotscope is part of the Hudes Tarot by Susan Hudes and A.L. Samul. Hudes is a painter and illustrator living in NYC. She is a graduate of the Parsons School of Design. Samul has written children's books as well as oracle and tarot books. The Hudes Tarot is published by US Games. 
Check out more daily tarot scopes or visit our Shop




"




Chrisalis




$3.99 per minute








New Clients:
First Paid Session Only!
3 Minutes Free!



Flat-rate sessions available in 10-, 30- or 60-minute increments: Choose from the menu below:








Melodie 

$3.99 per minute

$3.99 per minute


New Clients:
First Paid Session Only!
3 Minutes Free!



Flat-rate sessions available in 10-, 30- or 60-minute increments: Choose from the menu below: