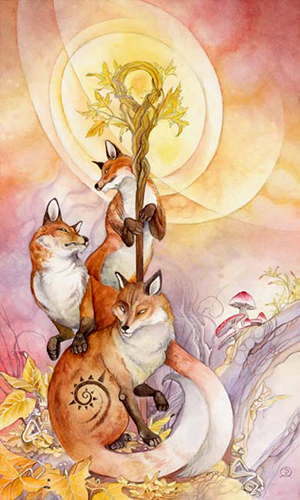 Aries: Ace of Wands
Things are likely to start looking up for you this month as your ruling planet (Mars) moves back into its home sign. You may have been feeling a bit out of sorts in recent weeks — while Mars was in Pisces — but now with it coming back into Aries it should be full speed ahead.
This is a good time to visualize and then work on manifesting your goals. It's a great time to start a new project or to start thinking about where you want to go from here.
The image on this Ace of Wands — from the Shadowscapes Tarot — suggests there is a correlation between what you are thinking of doing on a higher level and bringing it into your life. If this is the case it will not be difficult.
Things will fall into place for you almost seamlessly as your thoughts and actions correlate to what is around you and help comes from unexpected sources.
The Ace of Wands invites you to ask yourself what you really want to do that you can put your whole heart and soul into. It invites you to offer your intentions up to the Universe with every reason to believe you will be rewarded for doing so.