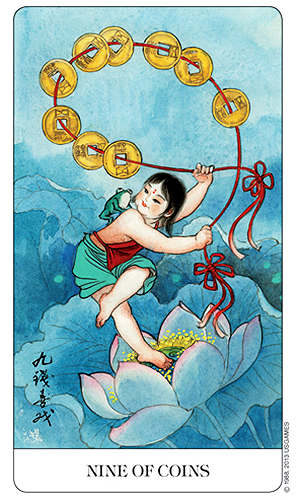 ARIES: Nine of Coins
Your card this month — the Nine of Coins — represents that intricate and fulfilling balance between expressing gratitude and achieving prosperity.
In this version — from the Chinese Tarot — we meet Liu-Hai, the coin-juggling god of abundance and prosperity. Liu-Hai and his loyal servant (a three-legged toad, sitting on his shoulder) are said to bring wealth and prosperity to those who are most deserving.
Liu-Hai is also the protector of needle-makers, not only because they're needed to thread the red (lucky) ribbons that sting the Chinese coins together, but perhaps also because they represent concepts like dedication and service.
As a symbol of purity and enlightenment, it's important to note the lotus blossom that Liu-Hai springs from. It's a reminder to all of us that true wealth comes from rising above the muck, conducting ourselves with grace and integrity, and aspiring to practice right livelihood.
The Nine of Coins represents getting to a point where you're more than satisfied with what you've attained. This relates to money and material possessions, but also to your own sense of self-worth.
It's about being grateful for all you've acquired and recognizing that you deserve it. It's about counting your blessings and aligning yourself with those concepts, knowing that the Universe offers up unlimited abundance to those who do.
Take some time this month to remind yourself of all that you have. Count your own blessings and be appreciative of those who've helped you along the way. And because the Nine of Coins also represents an understanding of how wealth and abundance needs to flow (it's called "currency" for a reason) be open to giving some of it away. Remember that whatever you put out there — whether it's time, energy, money or yourself — as well as whatever you're open to receiving, will all balance out and be replenished over time.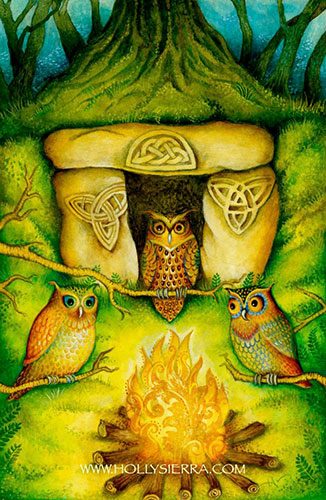 TAURUS: Three of Stones
There is wisdom and then there is the prospect of sharing that wisdom with others.The three owls in this card are here to remind you that this is a good time to put your head together with others and work on bringing a project to fruition.
The Three of Stones — the Chrysalis Tarot's version of the Three of Pentacles —  is a "teamwork" card, among other things.
It's about hitting your stride and seeing initial results of something you've been working hard on. Sometimes you need help to take it to the next level, even if that comes in the form of a critical eye.
With your ruler (Venus) moving through your 8th house this month and Jupiter (the ruler of that house) moving through your 6th house, it's going to be a good time to put your head together with others and make things happen.
These are the houses that are tied to money and work — and most importantly teamwork — which means that you can spread some of that wisdom around and learn something new in the process.
The Three of Stones joins companionship and camaraderie with work and productivity. It refers to the bringing together of like-minded people in a business or financial capacity. It's about networking, collaborating and team-building.
If you're involved in a project that could benefit from someone else's expertise, don't be afraid to ask. And don't be afraid to offer your assistance to those who might need it as well. You may just need a little push to get past a hump, or you may need the discerning eye of someone you trust.
The Three of Stones — like all threes — refers to the initial stages of progress where you've taken an idea (the Ace) put it into production (the Two) and are making progress now toward creating something real (the Three). It says you should be feeling good about what you've accomplished so far. But there's still work to be done, and you won't be able to do it alone.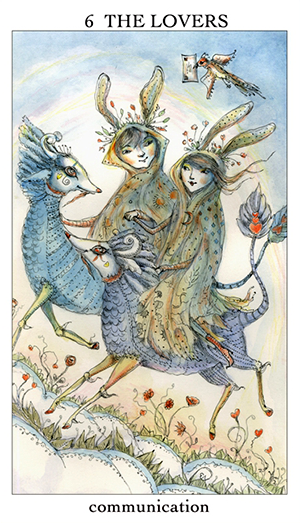 GEMINI: The Lovers
Your romance and relationship rulers (Venus and Jupiter) are now in mutual reception and are both moving full speed ahead through one another's houses. If this isn't the perfect recipe for romance, I don't know what is.
This version of the card — from the Joie de Vivre Tarot — emphasizes travel, partnership and togetherness, which is particularly fitting with Venus a part of the mix.
The couple in card aren't really paying attention to the road ahead of them. They're fully engrossed in one another, as are the creatures upon which they ride.
Their hands (and tails) are intertwined, making it hard to tell where one ends and the other begins. The little birdie flying overhead carries a message of love.
The lovers card is tied to Gemini, emphasizing the need for communications. That means listening as well as speaking, as can be seen with the figures in this card.
Openness and honesty are important features in any relationship and will go a long ways toward keeping the love alive.
The mutual reception between Venus and Jupiter emphasizes the harmonious exchange of ideas. It's about being on the same page — and moving in the same direction. Seeing eye to eye on important issues. And hearing the other person out.
This aspect is also good for travel.  Seeing the world, spontaneous gatherings and impromptu get-togethers. As the aspect never quite completes (this time around) the idea of playing it by ear and letting the day take you where it may is all the more appealing.
Whatever your plans this month, leave room for spontaneity. This isn't the time to get caught up in serious or monotonous plans. It's more about sharing ideas with those you love, and expressing your feelings openly.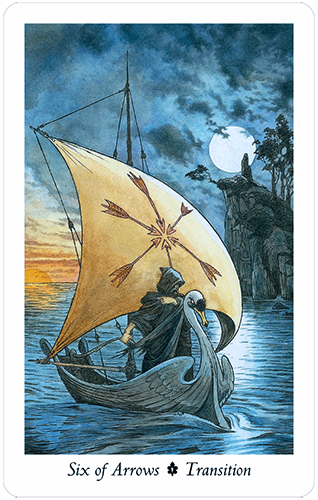 CANCER: Six of Arrows
You may be on the verge of making important changes in your life, and in doing so will have to think about what you're taking with you and what you need to leave behind.
The Six of Swords — this version from the Wildwood Tarot — is all about transitions, and in most decks (including this one) about leaving something painful behind in an effort to move toward "the light."
You may be moving, changing jobs, ending a relationship, or releasing baggage that's been holding you back. While this card refers to change more than it does endings, there are elements of "clearing the slate" that are a necessary part of this process.
This doesn't necessarily mean material things; in fact that's rarely what it means. It's more about attitudes and belief systems, as well as a life you may have built and dreams you may have dreamed that are no longer capable of sustaining you.
In this version of the card, we see a solitary figure navigating his tiny craft through uncharted territories. His sailboat is fashioned in the shape of a swan, and sails effortlessly toward its new destination. He's leaving behind the life he's known and moving toward a new existence.
This is the message behind the Six of Swords. It tells you that you may not be where you want to be just yet, but you're moving in the right direction. It also provides clarity and perspective. We may see things we don't want to see — or admit to ourselves — but it's that kind of clarity that motivates us toward change.
Take some time this month to reflect on where you are and where you want to be heading. This is the first step, courtesy of the Six of Swords, toward manifesting your goals.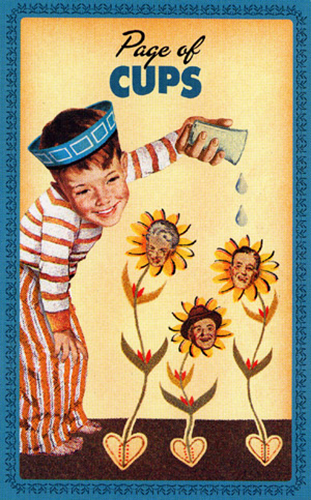 LEO: Page of Cups
With a packed 5th house this month — by the end of November there will have been 5 planets moving through this area for you, including the New Moon — it's time for spreading joy and happiness all around you wherever you go.
The 5th house is tied to love and romance. But it's also the area we find gaiety, spontaneity, creativity and self-expression, all of which are perfectly represented by the Page of Cups in this card.
Traditionally the Page of Cups is sensitive, loving, gentle and kind. He's nurturing and very compassionate — and more than willing to express his feelings of love and affection for others.
But this version — from the Housewives Tarot — emphasizes the playfulness that is also an important feature of the 5th house (and Leo) archetype. Here he's a young boy watering a group of sunflowers with three faces in their centers. These faces represent those who have brought him laughter and joy (there's Red Skelton and Fred Astaire there, I can't figure out who the third one is).
The flowers are planted in heart-shaped vases and the boy looks positively gleeful as he waters them. The flowers are thriving and lifting their sunny faces up to soak it all in.
The Page of Cups may be someone in your life — a young child or someone with childlike qualities, gentleness, sweetness and idealism. Or it may be a set of qualities that you're being called on to embrace. This card focuses less on romantic love and more on tending to the needs of others. Seeing how love spreads and is responded to in kind.
Is there someone in your life that needs a little nurturing in order to lift their spirits or reach their full potential? Perhaps you're in need of some tender loving care yourself. The Page of Cups is here to remind you that when you give even a little you get a whole lot back in return, so see what you can do this month to gladden the hearts of others.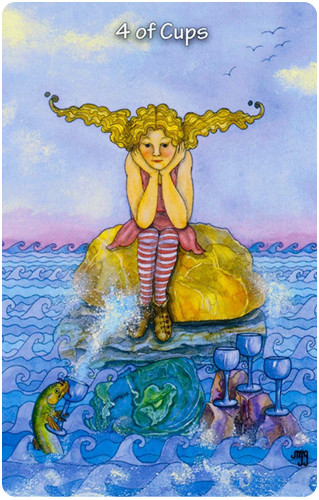 VIRGO: Four of Cups
With Neptune, Chiron and the South Node all retrograding through your 7th (partnership) house this month, you may be feeling disillusioned — in your relationships or with your life in general.
You may be asking yourself, "Is that all there is?" especially if you've attained something you so desperately longed for in the past, only to see it differently now that you've attained it.
It may represent a relationship that's lost its luster, a job that turns out to be tedious rather than rewarding, or a set of ideals that under the harsh light of day no longer seems so inspiring.
The Four of Cups — this version from the Hezicos Tarot —  is a card of apathy. It can represent disillusionment and discontent. It speaks of wondering whether there might be something else out there that would excite or inspire you. The focus may be on what is lacking in your life, rather than what's right there before you.
A lack of motivation and lethargy are also hallmark features of the Four of Cups. There's also generally a lack of energy, which may mean it's going to be a lazy time where you don't feel like doing much of anything.
One of the positive aspects of this card though is that it reveals to you exactly what's "wrong with this picture" and allows you the opportunity to make it right.
It can get you thinking about how things could be — in an ideal world or at least with respect to following your dreams — and then what you can do to make those dreams a reality. While you may start out thinking "what's the point?" you'll have a clearer idea of what's worth salvaging and what could use a little more work in the end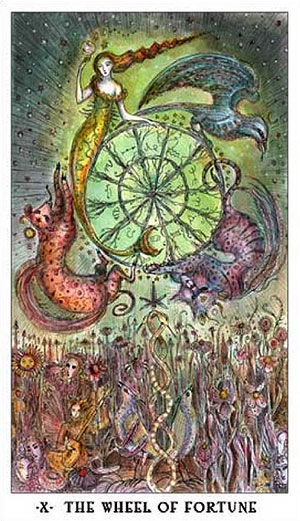 Libra: Wheel of Fortune
This month you may be looking at the ups and downs in your life and thinking about how they've led you to where you are today. The Wheel of Fortune card is associated with fate, destiny, "karma," life cycles and both good and bad luck.
Sometimes we blame ourselves for the down times (assuming we've "brought it all on ourselves") while viewing the up times as outside of our control.
We all experience these up and down cycles — and we all try to maximize the former while minimizing the latter. But the Wheel of Fortune — this version from the beautiful Paulina Tarot — tells us that both are necessary and that the good times wouldn't be good without the frame of reference of the not-so-good times.
The Wheel in this version glows with esoteric (astrological) symbolism. The creatures attached to the outer perimeters — and the beautiful Mermaid as well — move up as the wheel reaches the top and move back down as it descends toward the ground.
The Wheel of Fortune is tied to "luck" and you may see yours turning this month as Venus (your ruler) is in mutual reception with Jupiter, the planet tied to fortune, expansion and opportunity.
There are also elements of karma and fate associated with this card; yet the Wheel of Fortune refers as much to creating your own destiny — and mastering your own fate — as it does to dealing with karmic repercussions. It's a reminder that all we send out comes back to us in some form or another. It may not be today; it may be months, years or even lifetimes away.
Remember that as one one door closes, another one opens — just as the wheel turns and the seasons change. This month's transits speak of finding ways to voice your intentions while at the same time putting disappointments and heartaches behind you.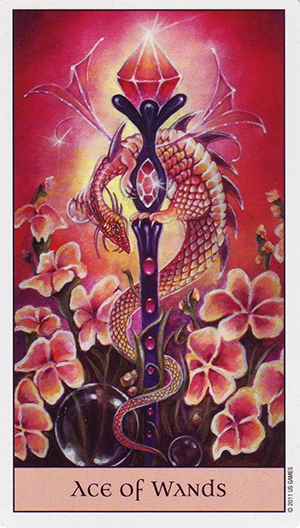 Scorpio: Ace of Wands
The recent New Moon in Scorpio — as well as Mercury, and later in the month Venus, also in your sign — should see you feeling like you're on the verge of important changes.
It is as if you have been released from the constrictions of the past few months and there is a brighter future coming your way. New Moons always have a way of making everything seem new and fresh and more inspiring, and this is right in line with the energy of the Ace of Wands.
The image on this Ace of Wands — from Jennifer Galasso's beautiful Crystal Visions Tarot — suggests there is a correlation between what you are thinking of doing on a higher level and bringing it into your life. If this is the case it will not be difficult.
Any new project you are thinking of starting now would be a great time to begin. Things will fall into place for you almost seamlessly as your thoughts and actions correlate to what is around you and help comes from unexpected sources.
There is an abundance of energy for you whether this be physical or mental and with this energy plus more importantly you are able to channel this energy into whatever you are doing.
The image in this card shows the dragon curled around the Ace of Wands with the gems in alignment with the heart area. The color of these gems reflect perfectly the energy of the New Moon working through your heart chakra bringing into life anything you set your mind to.
Do not be surprised if you sense divine inspiration around you this month, especially as the crystal balls in this image show that even if you are not focused on what is happening it will come up to hit you in the face anyway. By allowing this energy into your life you may accomplish that which you thought never possible.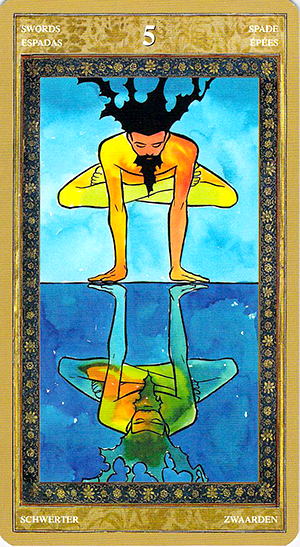 SAGITTARIUS: Five of Swords
With Saturn and Venus both moving through your sign now, you may be feeling a need to find balance in your life rather than allowing yourself to be weighted down by outside obstacles and restrictions.
The Five of Swords — this version from the beautiful Yoga Tarot — usually denotes friction, sharp words with others or even legal disputes.
However, the imagery on this version looks as if the friction, negative thoughts or any disputes you are having are within your "self" and it is time to look within for the answers and seek inner clarity.
There is something very "night and day" about this card. It is as if you can just extend your hand through an invisible shield and there you have the opposite thought, feeling or circumstance to what you are experiencing now in the present.
You are poised, you are in alignment, you are concentrating and yet what you see is a mirror image with perhaps no answers just yet in what you are trying to achieve and indeed what you may be trying to achieve is calmness and contemplation itself without the need to act or speak out.
To just let all around you take its course while you remain calm and untouched yet always with the awareness of what is going on without and within you. This is a card you can come back to again and again over the next several weeks as Mercury and then the Sun move into your sign and the New Moon takes place there later in the month.
Be aware of your thoughts changing, your inner dialogue expanding and what these differences mean to you at that time. Do not try to hold onto emotions that come up for you… let them go… remain in the present and enjoy the experience of looking at yourself reflected perfectly as you are in the present moment.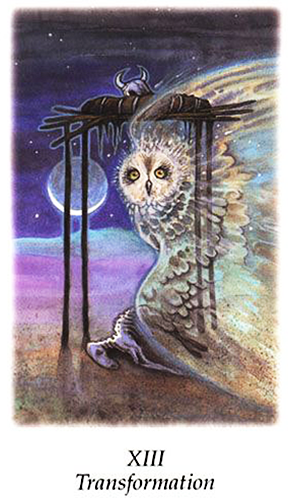 CAPRICORN: Transformation
This is a month of change and transition for you. you, you may be thinking about closing the door on one chapter in your life and opening another.
The Transformation card is the Vision Quest Tarot's version of the traditional tarot's Death card.
It speaks of putting certain things to rest — whether that be a relationship that you've been holding onto for far too long, a belief system that no longer serves you, or material possessions that you've accumulated but no longer have any use for.
The Death card is scary for some. Because it represents having something we've grown accustomed to taken away. But this card focuses on the transformative effects of "Death" in that all that you release will not only be replenished, but will get you one step closer to your own evolutionary potential.
It reminds us that energy never dies and that nothing we've lost is ever really gone. It's simply transformed and renewed, like the spirit of the owl overseeing the remnants of a tribal monument on this card. The animal's carcass may be old and weathered, but the Moon in the sky is new, reminding us that endings always lead to new beginnings.
Sometimes the Universe shows us just what we don't need by removing it from us forcefully from our grip. In this sense the "death" can be a painful undertaking. But if you choose instead to cooperate, it can be an incredibly liberating experience.
You may have to accept that the very thing you so desperately cling to is the one that's holding you back. In this respect, it's more about leaving behind something that probably wasn't working for you anyway and moving toward something that you're naturally more aligned with in the end.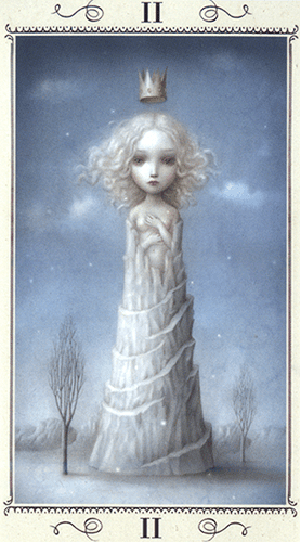 AQUARIUS: The High Priestess
While you have possibly been feeling a bit trapped and held back lately, this month you're bound to be brimming with new ideas. It's just a matter of releasing yourself from any self imposed doubts or situations that may be holding you back.
The High Priestess in this card — this version from the Ceccoli Tarot —  in encased in ice, taking on the form of a prison or a cocoon. It reminds us that sometimes when we keep ourselves trapped within a situation or way of thinking we do so to protect ourselves or other areas of our lives.
The crown floating above her head implies that she's ready to make changes and is brimming with new ideas on how to do so.
She may be holding back on an important decision, but she can't maintain that state for long. She'll have to make a move at some point or risk being stuck that way forever.
Like the High Priestess in this card, you will also need to be thinking about where you want to go. First things first though…you'll have to figure out how you will take that first step to change?
Will you thaw the ice that encases you or will you transform your life and emerge as a butterfly from a cocoon? Either of these options may not be as difficult as you envision.
The High Priestess is at home in the world of arcane knowledge and esoterica. She's both young and old, masculine and feminine, innocent and wise. She is the keeper of secrets, knowledge and mystery.
There's a lot of self love around for you as can be seen from the hand placed over your heart and even though others may think of you as a bit of an ice queen this month, you have the power within you to transform all around you… including yourself.
Pisces: Ten of Wands
Neptune goes direct this month .  You may have to muster up the strength, determination and fortitude today to do what must be done, even if the task before you seems daunting and overwhelming.
The Ten of Wands — this version from the stunning Mary-el Tarot — is all about rising to the occasion and taking care of business, no matter how difficult or arduous that may be. It's about stepping up to the plate and shouldering responsibilities — or like the figure in this card, moving through hell or high water to get the job done.
What would happen if the man and his horse were to slow down or stop in their tracks? They'd be consumed by the flames that are already engulfing them. They'd surely perish on the spot.
The idea here seems to be that once the task is started there's no turning back. The rider pledges his commitment (notice his hand held over his heart) and the horse gathers speed.
He may have taken on more than one man can reasonably expect to accomplish, but he's not going to throw in the towel. And this is the essence of the Ten of Wands. Upholding your responsibilities may be more than you bargained for, but that doesn't excuse you from doing them.
You may be overwhelmed with all that's laid out before you. And you may be wondering whether you even have it in you to keep on going. But as you can see from this card there's no turning back. Your ruler (Neptune) turns direct later in the month, and should afford you some relief.
There are obligations and responsibilities to uphold as well as people who depend on you who'd likely be hurt by your neglect. The question you might want to ask yourself this month is this: "Is life (or love) supposed to be this hard?" The value of whatever it is that's taxed you to your limits probably needs to be reassessed.
—————————–
This month's tarotscopes feature some of Ask the Astrologers all time favorite cards. We hope you like them too! 
Don't forget to check out this month's Horoscopes too!
November 2016 Tarot Scopes
By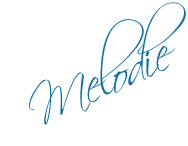 Personal Consultations:
If you would like to schedule a session with me, there are two ways to go about it. You can either purchase time either per minute (via Click4Advisor) or in blocks of 10-, 30- or 60-minutes (via PayPal). If I'm not showing as available, or if you want to purchase blocks of time through PayPal, please feel free to email me.







Melodie 

$3.99 per minute

$3.99 per minute


New Clients:
First Paid Session Only!
3 Minutes Free!



Flat-rate sessions available in 10-, 30- or 60-minute increments: Choose from the menu below: