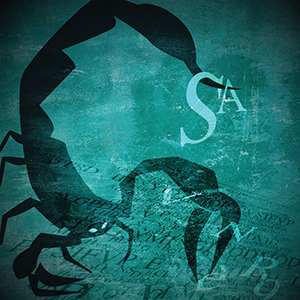 The month begins with a retrograde Mercury in Scorpio. Whoopie! The gauntlet for going deeper and revealing the truth of things has been thrown by the cosmic forces that be. Show up, tell the truth and go deep within yourself to make the most of this transit. People will be hypersensitive to criticism so go easy with your words.
Mercury will go direct on November 20 at 11º Scorpio 38'. This one could get pretty intense, just sayin'. The little dude is close to Venus until the 3rd, making it all rather pleasant and civilized. Venus goes into Sagittarius on the 2nd and they separate as Mercury retros and Venus moves forward.
It gets more intense after that as transiting Mars in Libra squares transiting Pluto in Capricorn. This is an explosive aspect with a potential for nasty confrontations and outcomes. Avoid volatile people and watch your back in unfamiliar surroundings. Jupiter, the planet of optimism, right action and justice, moves between 23 degrees and 29 degrees of Sagittarius, and is aspecting the Galactic Center between November 15-21. This coincides with Mercury going direct on the 20th and Mars entering Scorpio on the 20th as well. The truth of the matter does get revealed as the month unfolds.