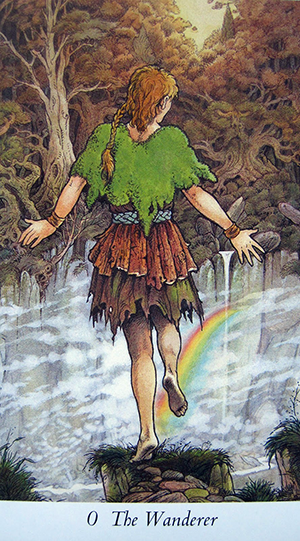 ARIES: The Wanderer

This month may see you developing a renewed interest in travel, adventure and personal expansion. The Wanderer card (the Fool, in traditional decks) fits in beautifully with this dynamic, as it relates to being open to new experiences without regard for where they may ultimately lead.
In the Wildowood Tarot's version, we see a young woman striding toward the edge of a cliff, barefoot and unburdened by material possessions. Her arms are wide open and her gait is purposeful, even knowing that the path before her is partially obscured by clouds.
There's a waterfall on the other side and a shimmering rainbow bridge leading to it, but if you look closely you can also see the rocky terrain far below.
A fall would be treacherous but somehow you know she's not going to fall. Her faith and her optimism and her willingness to seize the day will see her safely to the other side.
This is the essence of the Wanderer card; It's about taking a leap of faith and being open to going wherever the moment takes you. Pay attention though to the clouds that may be obscuring your path.  And keep in mind Ithat there will be some things you need to surrender, as a necessary part of taking that leap of faith.
You want to think about these concepts, especially as they apply to opportunities that present themselves to you today. It's not the time to fret about details or focus on what could possibly go wrong.
You do want to keep your wits about you, and unlike the woman in this card you do want to watch your step. But immersing yourself fully in the journey — rather than thinking too hard or focusing too much on the destination — can open up a whole new world of possibilities for you that you won't want to miss.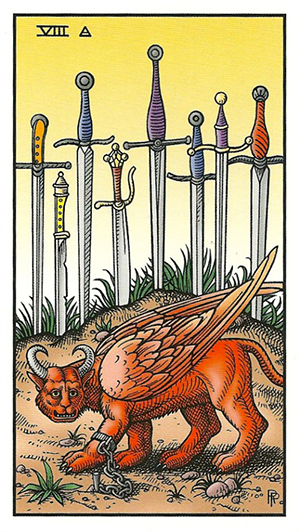 TAURUS: Eight of Swords

This month you may need to think about your own limitations, and how you've contributed to the different obstacles that stand between you and your goals.
The Eight of Swords speaks of self-imposed obstacles and restrictions. You may feel powerless in your current circumstances and may be so caught up in blaming the people or events that have brought you to this that you're unable to see a way out.
You may feel like you're beating your head against a wall or like all of your efforts are being met with resistance.
You may question whether the Universe is telling you to fight or to accept defeat — although neither of these is going to be the right course of action.
If you look at the demon in the card — from Robert M. Place's Alchemical Tarot — you can see that he has several ways out. The Swords that are lined up behind him are more decoration than anything else.
The chain around his leg is attached to … nothing. And he has wings! If he wanted to he could just take flight. There are multiple options available to him to break free.
As always with the Eight of Swords there is a way out. It may require a bit of ingenuity — much like is seen in this card. But it mainly involves simply opening your eyes, changing your perspective and finding a workable solution.
The Eight of Swords calls for awareness, perspective and acceptance or responsibility. Only once you have achieved all three can you truly break free from the ties that bind you.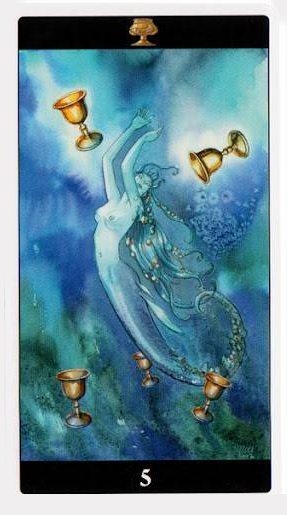 GEMINI: Five of Cups

You may be trying to find your bearings this month and need to decide what direction you will take next.
Don't rush into any decisions as you may not be seeing the full picture just yet and need to wait for things to fall into place.
Any papers you have to sign are perhaps best put off (since your ruler, Mercury is going to be retrograde for a good part of the month), especially if you have any questions about what you are signing.
Things are on an upward turn for you but you are not out of the woods yet. You need to watch where you are going and not leave things up to fate or chance.
Part of you may feel as if it is all too much effort to make but there are other parts of you (as can be seen from the face blowing bubbles behind you) that do see the fuller picture and are intuitively urging you to make the changes you face without holding back.
If you did decide to make changes this month, perhaps you should take a look at the mermaid's tail in this image. It is not being used for anything other than balancing just now and that is how it is for you. You are at a standstill, neither here nor there and just holding your own.
The beautiful blue and green hues of the water in this card — the Five of Cups from the Dream Enchantress Tarot — speak of communication and healing taking place. The relatively calm currents show your emotions being kept in check. However, the trajectory of the cups in the water do not show which way you will go.
At the moment you reach towards the surface of the water ready to pull yourself out of where you are but you are not looking at where you are going and in not doing so that may be your downfall.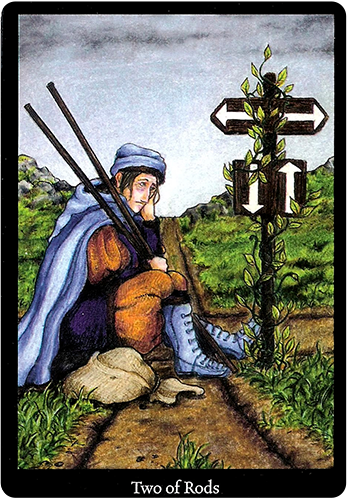 CANCER: Two of Rods
With Mars moving into your romance sector and Saturn moving into your relationship sector this month, you may feel like you're on the verge of major changes in this area.
You might be fretting over decisions that are weighing heavily on your mind or feeling afraid of making the wrong move.
This version of the Two of Rods — from the Anna K Tarot — illustrates this dilemma beautifully. There are several different paths to take but no clear direction. And no idea what is on the other side.
In this respect the Two of Rods is as much about trust as it is about action. Trusting that whatever path you take will lead you to where you need to be.
You may be on the verge of making major changes in your relationships. And it may be frustrating but decisions will have to be made. Look at the figure in this card. He's not getting anywhere by plopping himself down on the side of the road and worrying about taking the wrong path. He may be avoiding pitfalls by sitting there doing nothing, but he's also missing out on potential opportunities.
The Two of Rods says that while you may not have all the information you need to make an informed decision, you're still better off doing something rather than allowing yourself to become paralyzed by fear. This card encourages you to pick yourself up and dust yourself off and be willing to take a stand.

LEO: Ace of Pentacles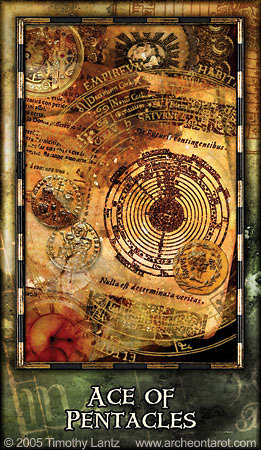 This month you will be focusing on manifesting more abundance and prosperity into your life.
The Ace of Pentacles — like all Aces — represents the start of something new, and in this case it happens to relate to money. As in new financial opportunities coming your way. While you probably won't see a windfall, it's a positive affirmation that you're putting your energy into the right areas.
You may have recently gotten a raise, started a new job or become the benefactor of someone else's generosity. You could also be starting to see returns on your earlier investments. Either way, you should have more opportunities and more financial resources at your disposal than you've had in recent months.
You may also feel that your luck is changing. As the Ace of Pentacles is associated with a change in fortune — a positive change I also see Aces as "Yes" cards — as long as the "yes" answer is a positive affirmation.
It's telling you to keep up the good work, to go after your dreams, and to see the bounty that's coming your way as confirmation from the Universe.
In this rendition — from Timothy's Lantz' Archeon Tarot — we see scattered symbols of success and good fortune. Old coins, an ancient manuscript, an astrology chart, old time pieces, and other esoteric symbols.
You can be confident in the knowledge that fortune is smiling upon you with this month, and while that doesn't mean you should be foolish with your money, you should have more of it than usual to work with.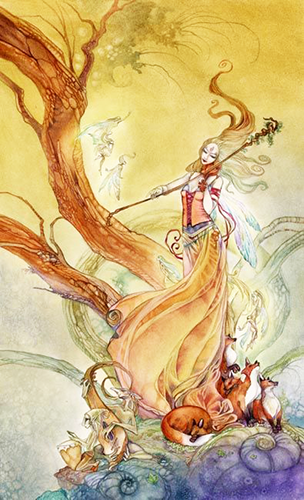 VIRGO: Page of Wands
This month you may be feeling more inspired to put yourself out there and express the skills and ideas you're most passionate about.
This is time for feeling inspired. It's a time to participate and experience life in its most vibrant, colorful form.  It's a time to grow, evolve and learn. And to pass what you've learned onto others.
It's about sharing knowledge and ideas, motivating yourself and others through the exchange of information. The Page of Wands — this version from the Shadowscapes Tarot — illustrates this energy beautifully. The woodland creatures and the tiny fairies that surround her are so enthralled by the music that they hear that they're drawn to it is source.
The fairy maiden stands in a clearing oblivious to her surroundings and plays her instrument with reckless abandon. You can see that she's completely in her zone.
The Princess of Wands is all about shedding inhibitions and taking the world by storm. She's impulsive, enthusiastic and confident. She's not afraid to put herself out there and show the rest of the world what she's made of. She's enthusiastic and eager to make things happen.
There's a fiery, impassioned energy about her, as well as a sort of reckless abandon. She may not always think things through; she's more interested in getting things moving than seeing them through to fruition. Because of this, it may not be the best time to commit to long-term projects or goals.
It's a great time for brainstorming, inventing and creating — and not so great for launching a project that is not yet fully formed. This is the essence of the Page (or Princess) of Wands. She can motivate and inspire you in your own life too. Ask yourself in what areas have you been too timid or uncertain, and how might incorporating some of her passion and bravery into your own life work to your advantage? Use this time to tap into your creative potential and save the business of accomplishing something big for another day.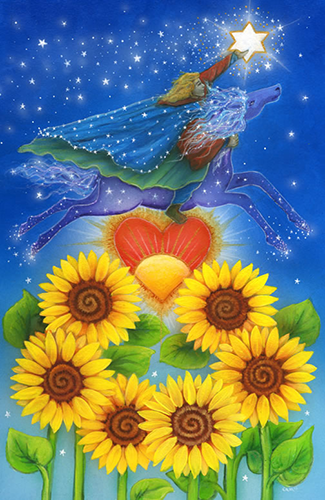 Libra: Six of Wands
This month should bring opportuntieis for acknowledgement and recognition from others. This is a time to reach for the stars and allow yourself to shine.
You may have been putting a lot of effort into your work and not even realizing that others have taken notice. Or you could be unexpectedly pulled aside by a loved one, just to tell you how much you're valued.
The Six of Wands — the version from Cathy McClelland's beautiful Star Tarot — is a card of appreciation and admiration. You "win" something and have earned the right to be satisfied with the spoils of your victory.
This isn't about ego or conceit and it's never at someone else's expense. There's a strong sense of being supported and lifted up by others who rejoice right along with you.
You are on the road to success. You may not know where it will take you but what you do know is that it is for your greater good and that there is a fair degree of growth attached to it. And whether it happens now or it happens for you months down the road, remember that it's always a process and not an event.
Whatever form this takes for you, know that you've earned it and that you deserve it. It may just give you the incentive to keep shooting for the stars and manifesting your highest goals.
Don't shy away from celebrating your achievements with others. Even if it feels premature at this stage know that you're well on your way and that the fun doesn't have to stop once you reach your goals. Embrace the accolades that are coming your way as confirmation that you've earned and deserve them. And don't forget to thank those who've helped you along the way.
Scorpio: King of Swords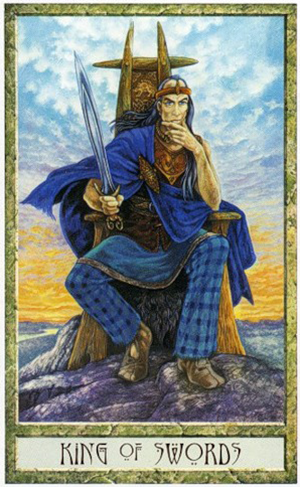 You may have to put your foot down this month and be stern with someone that you've let slide in the past. Alternately you may be on the receiving end of someone else's objective and impartial sense of discipline.
The King of Swords is a no-nonsense individual who is expected to mete out justice with a fair and authoritative hand. He may be a parent, a supervisor, a judge, or even a friend that steps in to give you a reality check when you need one most.
As with all court cards this can also refer to you — or to a state of mind that you need to develop — in order to preserve a sense of order in your life.
You may have felt taken advantage of by someone who has overstepped their bounds with you and this card encourages you to resolve that problem by taking a more authoritative stance.
This version of the King — from the Druid Craft Tarot — appears to be deep in thought. He's weighing his options with his very imposing sword at the ready. He sits high on a hill looking over his Kingdom, prepared to act if necessary.
The King of Swords is also intelligent, strategic and analytical. He's inherently impartial. He doesn't mince words, and he doesn't listen to excuses. He makes his decisions based on logic and reason rather than compassion and empathy.
This card can refer to a need for justice and symmetry in your life. Or it can mark the presence of someone whose sense of authority and justice overrides personal investments. Whether this refers to you or to another, the underlying message is the same. Step away from emotional attachments and make your decisions this month based on what is right, fair, and most importantly best for you in the long run.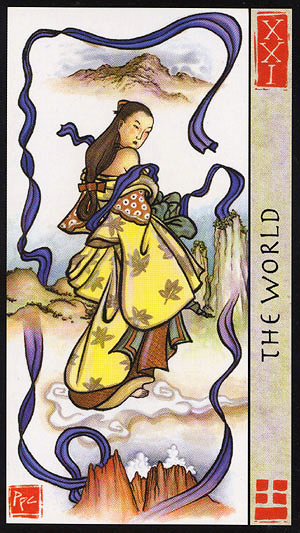 SAGITTARIUS: The World
Your card this month — the World from the beautiful Feng Shui Tarot — is all about looking at the big picture and being able to trace the steps that have brought you to where you are today.
It's a card of fulfillment and completion; recognizing milestones that have passed and goals that have been achieved as you prepare to close the door on one chapter in your life and open another.
You may be setting new goals in place or you may be taking some time to celebrate how far you've come.
As the last card in the tarot, the World complete's the Fool's journey, with the understanding that he's grown, evolved and matured along the way.
This card can also have you thinking about where you fit in in the world and about your contributions to humanity. It speaks of not only realizing your dreams and achieving your goals, but also becoming one with the Universe, becoming fulfilled and whole.
Saturn leaves your sign this month and moves into Capricorn. It won't be back for another 29 years. This indicates the closing of one door and opening of another. In doing so there's a reminder that you are in charge of your own destiny and capable of creating your own luck.
You may be tying up one cycle this month and preparing to embark on a new one. Whether you're taking some time to relish the satisfaction of having achieved something, or are ready to dive back in and start again, the message behind the world card is best received with insight and awareness.
Ask yourself: "What is is I've learned through all that I've experienced in this chapter of my life?" and "What must I now give up in order to start anew?" If you can answer those two questions with honesty and humility, you'll be able to carry those lessons into the next chapter.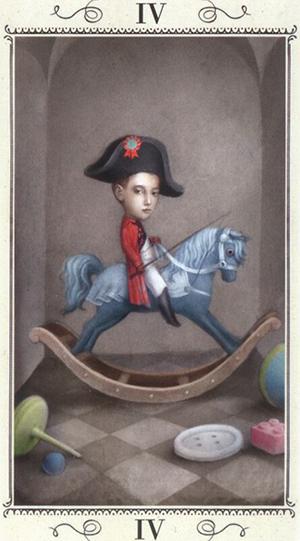 CAPRICORN: The Emperor
As Saturn returns to your sign this month (for the first time in 29+ years), you should be thinking more about taking charge of your life and achieving your goals and ambitions.
This is the Ceccoli Tarot's version of the Emperor, in this case a mini Napoleon Bonaparte sitting on a rocking horse.
The room he sits in may be small, but he casts an imposing figure nevertheless, sitting there amongst the various discarded toys and sundries.
You may be asking yourself whether you want to be a small fish in a big pond or a big fish in a small pond. It's all about gaining perspective and establishing priorities.
This card symbolizes worldly acclaim and ambition. No matter how high you want to climb, you can know that there are possibilities available to you if you only you set your sights on pursuing them.
As the Emperor also relates to the "Laws of the Land," some of the less pleasant manifestations of this card include things like being on the receiving end of legal or professional disciplinary actions, dealings with the IRS or government, or having to deal with an oppressive boss or coworker.
Hard work, perseverance and determination are all required: nothing will come to you through sheer luck or wishful thinking. Keep that in mind while Saturn is in your sign (where it is at home and where it will be for the next 2-1/2 more years).
The message behind this card is one of taking care of business. It's not the time to be passive or wishy-washy. It's all about stepping up and taking control of a situation that requires a firm hand and authoritative presence.

AQUARIUS: Nine of Pentacles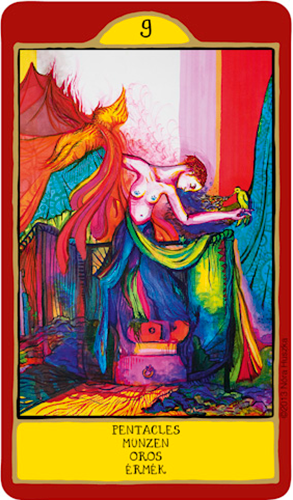 This month it's going to be all about experiencing gratitude for all you've acquired and accomplished.
This is the Nine of Pentacles from the beautiful Gypsy Palace Tarot. This card refers to the sense of fulfillment that comes from knowing that you've worked hard and earned all you've acquired.
Still there's an air of humility and gratitude depicted here in the figure who bows in reverence to the tiny bird perched on her hand.
You may be in line for a raise at work or anticipating some other type of monetary gain. You could be re-evaluating your own set of values, unrelated to your personal finances. Or you could be gazing around you in wonder at how far you've come and how much you've grown.
Don't underestimate the power of playfulness and joy, as these energies can manifest creatively as the spark that breaks up whatever has crystallized in your life and rendered you "stuck." You absolutely have to love what you do in order to make this worthwhile.
We know that all the money in the world won't buy us happiness if it's acquired without passion. Yet we keep on wanting more of it, and find ourselves struggling with the idea of figuring out how much is "enough."
The Nine of Pentacles challenges us to not only answer that question but to examine our personal values as well. Money is just one form "values" and is usually the one we pay the most attention to. We need to be mindful of the temptation to overlook one set of values for another, especially when it involves compromising our principles.
Sometimes the Nine of Pentacles appears as a generous benefactor or someone who opens a door for you that leads to a good financial opportunity. And sometimes it comes as an event that is the catalyst that leads to opportunity. Be grateful for the opportunity as it's this shift in consciousness — to that of prosperity, abundance and gratitude — that will make all the difference in your life.
Pisces: Four of Cups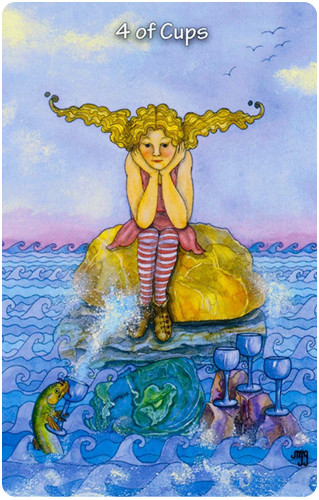 This month may see you dealing with issues of disillusionment or discontent. You may be asking yourself, "Is that all there is?" especially if you've attained something you so desperately longed for in the past, only to see it differently now that you've attained it.
It may represent a relationship that's lost its luster, a job that turns out to be tedious rather than rewarding, or a set of ideals that under the harsh light of day no longer seems so inspiring.
The Four of Cups — this version from the Hezicos Tarot — can relate to a lack of motivation or a lethargy so profound that it threatens to numb you or trap you in your sense of boredom. It can have you wondering whether there might be something else out there that would excite or inspire you.
It can also relate to a lack of energy, which may mean it could turn into period of inertia where you don't feel like doing much of anything. It speaks of wondering whether there might be something else out there that would excite or inspire you.
The focus may be on what is lacking in your life, rather than what's right there before you.
One of the positive aspects of this card though is that it reveals to you exactly what's "wrong with this picture" and allows you the opportunity to make it right.
It can get you thinking about how things could be — in an ideal world or at least with respect to following your dreams — and then what you can do to make those dreams a reality. While you may start out thinking "what's the point?" you'll have a clearer idea of what's worth salvaging and what could use a little more work in the end.
—————————–
This month's tarotscopes feature some of Ask the Astrologers all time favorite cards. We hope you like them too! 
Don't forget to check out this month's Horoscopes too!
December 2017 Tarot Scopes
By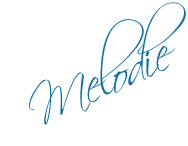 Personal Consultations:
If you would like to schedule a session with me, there are two ways to go about it. You can either purchase time either per minute (via Click4Advisor) or in blocks of 10-, 30- or 60-minutes (via PayPal). If I'm not showing as available, or if you want to purchase blocks of time through PayPal, please feel free to email me.







Melodie 

$3.99 per minute

$3.99 per minute


New Clients:
First Paid Session Only!
3 Minutes Free!



Flat-rate sessions available in 10-, 30- or 60-minute increments: Choose from the menu below: