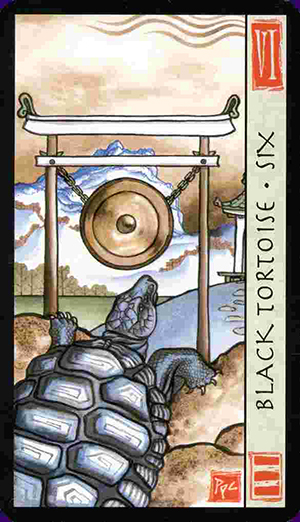 Aries: Black Tortoise Six
Opportunities abound for you this month with your ruler (Mars) joining Jupiter, Saturn and Pluto in your public sector. This is a powerhouse conjunction that's likely to get you noticed. It can herald a period of increased public scrutiny, and can bring you more recognition on the job.
You may have been putting a lot of effort into your work and not even realizing that others have taken notice. Or you could be unexpectedly pulled aside by a loved one, just to tell you how much you're valued.
This is the Feng Shui Tarot's version of the Six of Wands. It's a card of appreciation and admiration. You "win" something and have earned the right to be satisfied with the spoils of your victory.
This isn't about ego or conceit and it's never at someone else's expense. There's a strong sense of being supported and lifted up by others who rejoice right along with you.
You could be in line for a promotion or an award at work. You could be given the okay to go ahead with a project you've been excited about. Or it may be as simple as pat on the back and some words of encouragement from those who look up to you.
Whatever form this takes for you this month, know that you've earned it and that you deserve it. It may just give you the incentive to keep shooting for the stars and manifesting your highest goals. Don't shy away from celebrating your achievements with others.
Even if it feels premature at this stage know that you're well on your way and that the fun doesn't have to stop once you reach your goals. Embrace the accolades that are coming toward you and don't forget to thank those who've helped you along the way.