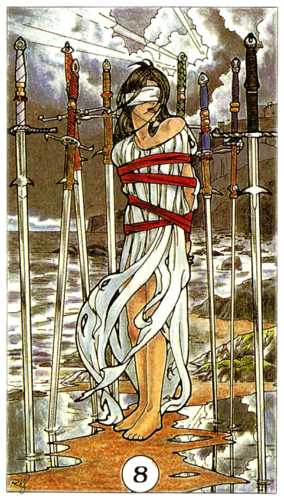 Eight of Swords
You look as if you have gone and got yourself tied up in knots over something and don't know what to do about it.  While you are in this state you will not be able to see clearly or navigate a path towards safety and/or peace of mind.
Swords denote mental energy and in the 8 swords this energy is directed inwards without much room for moving in any direction be it forwards or backwards. Even the swords form a line on either side of the woman in the card to block her exit from her self imposed prison. I call it self imposed because those bonds surrounding her are loosely bound, they are also red and this implies she is angry about her situation but perhaps caught up a bit too much in her anger to see her way out of it.
If she would just ease herself out of them she would then be able to take off the blindfold and see her way clear from the precarious position she holds on the tiny bit of land that is left to her. Behind her is a raging sea yet the water to either side of her feet is relatively calm… almost acting like a mirror for her to self examine her own emotions and behaviour.
The image on this card shows that you may think you are not out of a bad situation yet but you may be further out of it than you know. One last piece of strength is needed for you to take action and extricate yourself from the clutches of someone else's power and you will be free. If you stay where you are now you will find yourself not knowing what is going on, not seeing things clearly or for what they are and generally beating yourself up for something that is more than likely not your fault.
The damage this is doing to your emotionally and mentally may not be understood by you yet but when you do set yourself free you will see the damage (as in the tattered lower part of the dress) and when you do see the damage for what it is and where it came from your eyes may open even more to what perpetuated this situation in the first place.
Remember swords are for thoughts, mental processes and words… when you do release yourself from your self imposed prison you may wish to remember you have 8 swords surrounding you. You may wish to pick one up and use it whether this be words you say to someone else or you giving yourself a good talking to for finding yourself in this situation. The choice is yours… as it is in releasing yourself from those ropes in the first place.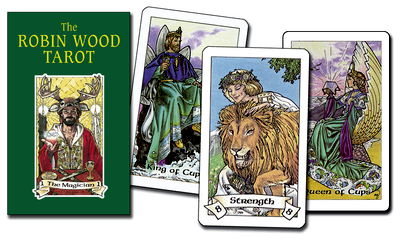 Today's card — Eight of Swords — comes from the Robin Wood tarot series by prolific artist and author Robin Wood.
This deck is published by Llewellyn. For more information check out her blog or Facebook Fan page.
She also has a great Zazzle storefront where many items with her prints and designs can be purchased.

Check out more daily tarot scopes or visit our Shop.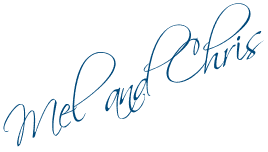 Personal Consultations:
If you would like to schedule a session with either of us, there are two ways to go about it.  You can either purchase time either per minute (via Click4Advisor) or in blocks of 10-, 30- or 60-minutes (via PayPal). If we're not showing as available, or if you want to purchase blocks of time through PayPal, please feel free to email us:







Melodie 

$3.99 per minute

$3.99 per minute


New Clients:
First Paid Session Only!
3 Minutes Free!



Flat-rate sessions available in 10-, 30- or 60-minute increments: Choose from the menu below:





"




Chrisalis




$3.99 per minute








New Clients:
First Paid Session Only!
3 Minutes Free!



Flat-rate sessions available in 10-, 30- or 60-minute increments: Choose from the menu below: