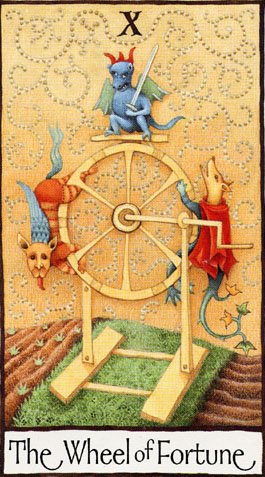 Wheel of Fortune
"That's the way that the world goes round
You're up one day and the next you're down
There's a half an inch of water and you think you're gonna drown
That's the way that the world goes round." ~ John Prine
You may feel like you're going through an entire gamut of emotions (or experiences) today. The Wheel of Fortune card speaks of ups and downs (and in betweens) experienced over a short period of time.
In this version of the card we see three whimsical mice at various stages of progress on a wheel. One is climbing his way to the top; one sits there in all his glory with sword and crown, and one holds on for dear life on his way back down. The wheel just keeps on turning — and if we're smart we'll remember that it always comes back up.
There are elements of karma and fate associated with this card, depending on where it shows up in a spread. When it appears in a single-card tarot draw, it refers to the inevitable cycles of change that we all experience in our daily lives.
As with any revolving surface, there's much less motion in the center. If you find yourself sliding down (physically, mentally, emotionally or spiritually) today, remind yourself that it's only a momentary state: the key to mitigating the "down time" is to find your own center and stay there.
  The card used for today's
tarot scope
 is part of the
Old English Tarot
series, illustrated by 
Maggie-Kneen
 and distributed by 
U.S. Games.
Check out more daily tarot scopes or visit our Shop.