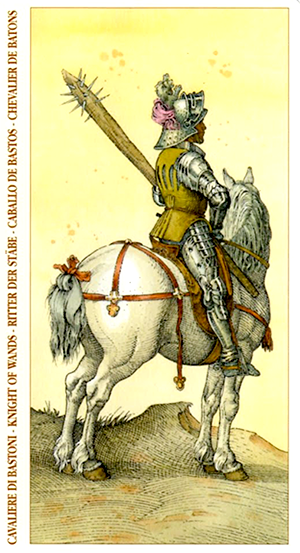 Knight of Wands
Today you may have to reach into your inner reserves of confidence and courage to go after your dreams.
The Knight of Wands is all about passion, inspiration and adventure. You may have taken the seed of an idea (as seen with the Page) and turned it into a workable plan. This isn't some far-fetched scheme. It's a goal you can actually see yourself reaching at some point in the future.
This Knight of Wands is more composed than so many of the other versions. Rather than rearing back on his steed and charging off toward the horizon, this one trains his eye on far-off vistas, measuring the steps it will take for him to get from here to there.
You may be considering a major undertaking: going back to school, launching a new career, embarking on a spiritual adventure, etc. Whatever it is, know that it will serve you well to adopt a similar stance.
While there is a definite "spirit of adventure" associated with the Knight of Wands, it helps to pace yourself (like the version in this card) rather than to charge off after something that you haven't quite figured out.
You can't know all the answers: even this Knight doesn't know what's on the other side of that cliff. But you can increase your odds of succeeding by adopting a "look before you leap" attitude, for this or any venture. 
As is the case with all of the Knights, there's still a ways to go. There are still some challenges to master and  hurdles to overcome. But it's the courage and confidence seen in this card that assures you that you will.
As is also the case with all Knights — and with all of the court cards in general — this may represent an individual in your life. If this is the case with you, know that he or she delivers an important message. It's time to set things in motion to go after your dreams.
The card used for today's tarotscope — Knight of Wands — is part of the Tarot of Durer series which pays homage to the German artist of the Renaissance era, Albrecht Durer. Written by Manfredi Toraldo and illustrated by Giacinto Gaudenzi. This is a Lo Scarabeo deck, distributed by Llewellyn. 
Check out more daily tarot scopes or visit our Shop







Melodie 

$3.99 per minute

$3.99 per minute


New Clients:
First Paid Session Only!
3 Minutes Free!



Flat-rate sessions available in 10-, 30- or 60-minute increments: Choose from the menu below:





"




Chrisalis




$3.99 per minute








New Clients:
First Paid Session Only!
3 Minutes Free!



Flat-rate sessions available in 10-, 30- or 60-minute increments: Choose from the menu below: