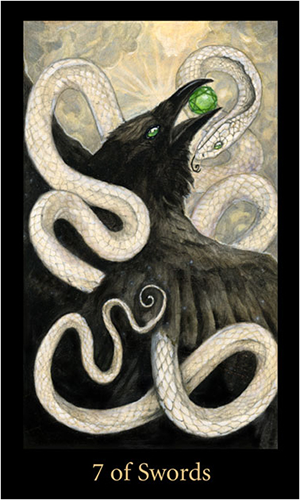 ARIES: Seven of Swords

The question you're going to have to ask yourself this month — with your ruler (Mars) turning retrograde — is how much are you willing to give up to attain what you desire?
The Seven of Swords requires you to evaluate all the different sides of a complicated situation, and arrive at a solution that causes the least amount of distress.It can refer to a moral dilemma or one with no easy answer, such as a decision that favors head over heart.
This is a tricky card that relates to an equally tricky dilemma. Do you risk letting go of the thing you treasure most just to save your neck? Or do you hold on for dear life, knowing that what you lose may be a far greater sacrifice in the end?
The imagery in this card — from the Mary-el Tarot — portrays this quandary perfectly. The Raven holds onto the jewel, and risks being devour by the serpent. Does he let go of his treasure in order to save his life? or does he hold on for dear life and risk losing everything?
Traditional interpretations of this card speak of cunning, duplicity and deception. And there is some of that here. The Serpent could have easily coiled himself around the raven and tightened his grip already, but he takes his time taunting him with his hypnotic gaze.
Mars retrograde can see you shifting gears and struggling with motivation. It can make harder to know what you really want, and how far you're willing to go to hold onto to it. It can force you to have to "choose" even if that means having to choose the lesser of two evils.
Just as the snake encircles the raven and systematically tightens his grip, so must you weigh the consequences of holding too tightly to what you value, especially if it means giving up something far more precious.