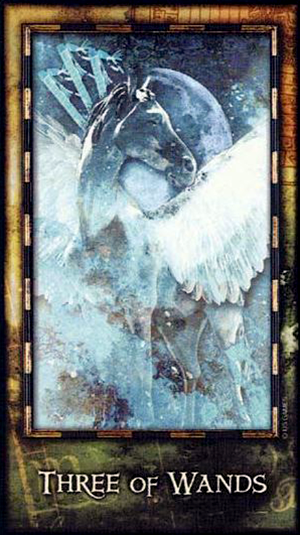 ARIES: Three of Wands

This month you may be bursting at the seams with all the passion and confidence that are needed to put your goals into place.
The Three of Wands — this version from Timothy Lantz' Archeon Tarot — speaks of a renewed sense of purpose, clarity and motivation – the desire and willingness to "make something happen!"
You may already have a new project in the works, in which case you're probably beginning to see the fruits of your labors pay off. Or you may be on the verge of launching a new project, and if that's the case, there's no better time than the present.
The Three of Wands embodies such a powerful life-force energy that it never permits itself to be "still." It's always improving.
Notice how the Pegasus in this deck is both watching over his shoulder (toward what has already been accomplished) and preparing to take flight. There's a nobility also associated with this card, which is befitting the majestic stance of our winged friend.
You may have recently discovered your life's purpose. Or you may just now be acting on aspirations that you were too afraid to reach for in the past. This card speaks of a new burst of inspiration, a second wind, and the confidence with which to see it through.
If you're starting something new try to inject yourself fully into it, as from this point forward you're going to have opportunities to expand your horizons. Whether that means through travel, enterprise, education or career, the Three of Wands tells you that now is the time to spread your wings and fly!