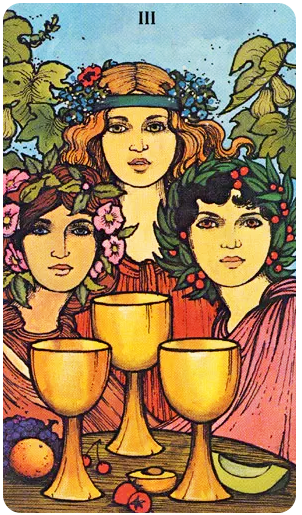 ARIES: Three of Cups

This month — with several planets moving in and out of your sign — you're hopefully going to be feeling more fully in your element. This should be a time of renewed opportunities to connect (or reconnect) with loved ones.
The Three of Cups — this version from the wonderful Morgan Greer Tarot — is a joyful and festive card that emphasizes partying and celebrating over work and responsibilities. It also emphasizes friends and casual relationships over serious romantic entanglements.
It refers to being surrounded by like-minded people and putting your differences aside. It's about coming together and joining forces with those who have your best interests at heart.
The focus is on merriment and gaiety rather than monotony and drudgery. It's on interacting and networking with others, allowing you to push aside some of your more serious concerns — at least for the time being.
It represents people gathering together to connect, interact and socialize. It's a happy, joyful energy that can manifest as a party or celebration, or it could be as simple as a girls' night out. 
Pay attention to new people coming into your life too. You could find yourself developing friendships with people that seem random at first but can turn into important connections over time.
No matter where the people in your life have come from this month — no matter what your connection or history or relationship with them is — the Three of Cups is a card of companionship and camaraderie. It serves as a reminder that there's always something to be grateful for, and always someone to share your gratitude with.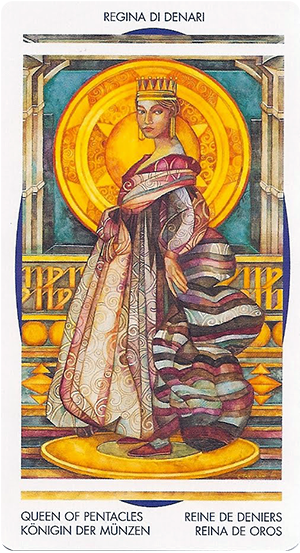 TAURUS: Queen of Pentacles

Now is the time to be thinking about ways to establish security for yourself and your loved ones. This means financial security first and foremost, but ties into other areas of your life as well.
Building a solid foundation in your relationships for example. Making sure you're where you need to be with your education and professional credentials. Fortifying your relationships with loved ones, family and friends.
The Queen of Pentacles — this version from the Crystal Tarot — is all about security and longevity. She appreciates the finer things in life and is not afraid to work for them. But she also wants to see returns on her efforts — material and otherwise.
This Queen is not a pushover. She stands firm in her convictions and does what it takes to achieve her goals. As a strong, solid practical business woman, she's probably weighed all her options before she's made a move. She could be a person in your life or it could refer to qualities that you need to incorporate into your own personality.
The Queen of Pentacles is practical and efficient. She also tends to move a little more slowly, for two reasons. One, she knows from experience that practical choices are more likely to pay off than get rich schemes in the end. And Two, she wants to savor the life she's built rather than scrambling to earn her next buck without taking the time to appreciate her gains.
She wants to be ready for the future. Notice the fall colors and foliage in this card. You could say she's getting ready for a long cold winter and is not about to face it ill-prepared.
With Mars moving through your sign right now, you want to be thinking about your long-term goals and what you might need to do to bring them to fruition. It may require you to make some short-term sacrifices. But what you gain in return — through hard work, discipline and patience — will make it all worthwhile in the end.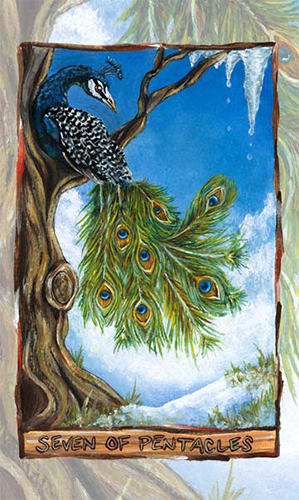 GEMINI: Seven of Pentacles

With Mercury (your ruler) going retrograde this month, you may find yourself looking back over the last several months and thinking about how far you've come.
The Seven of Pentacles — this version from the Animism Tarot —  indicates a need to pause and reflect: on plans that were made and detours that have been taken along the way.
It's about getting an overview of progress that's been made, and evaluating the sidetracks and setbacks that may have caused you to rethink your goals.
You may feel like you're at a cross-roads, questioning whether you want to continue with something as originally planned or consider changing direction altogether. The Seven of Pentacles says it's time to take a breather and rethink where you're heading: you probably wont proceed exactly as planned but that's because you're wiser and have more information to work with now.
The peacock is this card is perched high in the branches of a tree where she can get a clear overview of what's taking place below. The wintry backdrop and the icicles accumulating on the branches tell you that not much is happening down there.
There's a crispness and stillness in the air that makes it easier to clear your head and get some altitude as you reflect on our situation and reassess your goals. Perhaps taking the time to pause and reflect is exactly what is needed for you to see your best way forward.
With Mercury moving back and forth between two signs (Taurus and Aries) this month, there will need to be adjustments made. But it's at this moment in time — as you find yourself on the precipice between where you've come from and where you're headed — that you're better equipped than ever to plan your next move.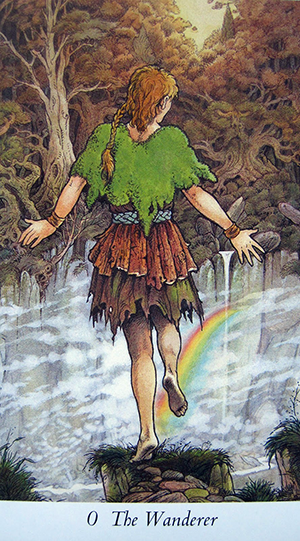 CANCER: The Fool
This month may see you experiencing a renewed passion for travel, adventure and personal expansion.
The Wanderer card (the Fool, in traditional decks) fits in beautifully with this dynamic, as it relates to being open to new experiences without regard for where they may ultimately lead.
In this version — from the beautiful Wildwood Tarot — we see a young woman striding toward the edge of a cliff, barefoot and unburdened by material possessions. Her arms are wide open and her gait is purposeful, even knowing that the path before her is partially obscured by clouds.
There's a waterfall on the other side and a shimmering rainbow bridge leading to it, but if you look closely you can also see the rocky terrain far below. A fall would be treacherous but somehow you know she's not going to fall. Her faith and her optimism and her willingness to seize the day will see her safely to the other side.
There may be some clouds obscuring a part of your path. And you you may need to surrender your fears enough to allow yourself to trust in the process. But this is the essence of the Wanderer card. It's about taking a leap of faith and being open to going wherever the moment takes you.
You want to think about these concepts, especially as they apply to opportunities that present themselves this month. It's not the time to fret about details or focus on what could possibly go wrong.
You do want to keep your wits about you, and unlike the woman in this card you do want to watch your step. But immersing yourself fully in the journey — rather than thinking too hard or focusing too much on the destination — can open up a whole new world of possibilities for you that you won't want to miss.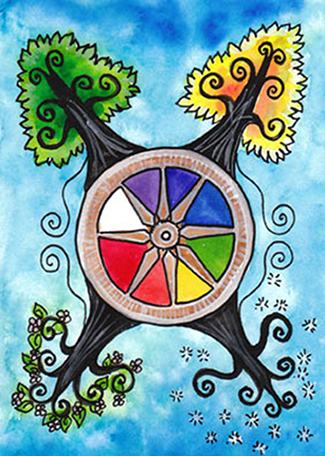 LEO: Wheel of Fortune
This month you want to be conscious of the decisions you make, as well as the words and emotions you express  to communicate your needs. With the North Node moving back into your sign — for the first time in 19 years — what you put out there can have far reaching consequences, particularly in the way you express yourself to others.
The North Node, like the Wheel of Fortune, refers to karma, fate and destiny. Reaping and sewing. The Law of Attraction. The winds of change. It's a reminder that all we send out comes back to us in some form or another. It may not be today; it may be months or years or even lifetimes away.
This version of the card — from the Tarot of Trees — depicts this energy beautifully, with the changing seasons moving around the perimeter of the wheel. It tells you that it's time to let go of painful associationsin order to make room for new ones. This can be an important step toward clearing away the debris in your life, especially if you're holding onto something (or someone) that no longer serves you.
The Wheel of Fortune is all about life's natural cycles and rhythms. It can bring exciting new opportunities or challenges you have to face. There are as many ups and downs as there are highs and lows. One day you're "on top of the world" and the next you're clawing your way back up from the bottom. Remember that as one one door closes, another one opens — just as the wheel turns and the seasons change.
The Nodal transit speaks of finding ways to voice your intentions while at the same time putting disappointments and heartaches behind you. You'll have to look at where the actions you've taken and the decisions you've made have led you to the here and now. In doing so, and in choosing to participate in your own destiny, you can determine where this next chapter leads.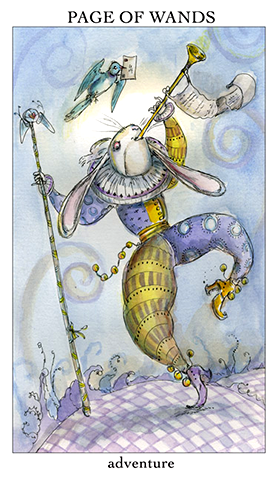 VIRGO: Page of Wands
This month your ruler (Mercury) retrogrades back into Aries, prompting you to go back and wash away the miscommunications, frustrations and slowness you may have been experiencing over the last several weeks.
Mercury in Aries is fast, direct, impatient and does not have time to think through all the in's and out's of everything. It's a time about "thinking on your feet", coming up with answers from the "top of your head" and generally listening to yourself in every which way that matters… even the wrong ways.
The Page of Wands is a card of news. Now it may be a letter, email, phone call you are waiting for which is of importance to you and heralds forth a new idea or path in your life. Whatever it is Wands denote that it happens quickly and with the Page of Wands you may wish to think more carefully about what you will do with the information when it does come.
Look a the way the rabbit in this card — from the Joie de Vivre Tarot — walks with a certain attitude that it cares for nothing else but the importance of itself and its own ideas. It is not worried about where it is going or where it has come from. What matters most is what it is thinking and where these thoughts can take it.
There is no shyness around as it "blows its own trumpet" as if to say I know what I'm doing and no one can tell me otherwise. The little bird flying overhead holds a letter in its beak but is it flying off to deliver news to someone else or is it delivering news to the rabbit? Good question and one you may wish to think over as you may be so caught up in your own thought (think Mercury in Aries, which will be in mutual reception with Mars after the 20th) that you're not separating what you are doing versus what you need to be doing.
It is not by accident that this rabbit is wearing a joker's suit, blowing on a trumpet with bells ringing from its boots. Perhaps a little less fanfare and ears pricked higher would serve you better than focusing only on what's immediately around you, as there does seem to be a way forward if you look at what is in front of you and not let your mind take you off course.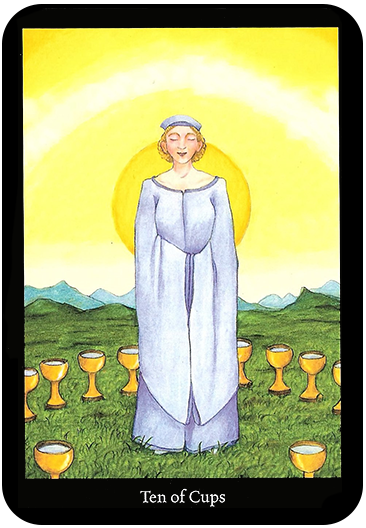 Libra: Ten of Cups
This month, with your ruler (Venus) retrograding back into Pisces, you're likely to be reconnecting with people who've been important in your life and who have helped you along the way.
It's going to be a time for counting your blessings and for expressing gratitude for all life you have created. This includes the people you choose to surround yourself with: the loved ones and family members who've been such an important part of it.
Venus in Pisces is not only in the sign of its exaltation but it's also in mutual reception with Jupiter, emphasizing the concepts of love, gratitude, harmony and grace that you allow to flow through you.
The Ten of Cups — this version from the Anna K. Tarot — is a card of serenity, contentment and fulfillment. This ties in beautifully with the Venus in Pisces and mutual reception with Jupiter. Sometimes it's a marriage card, a joining together with someone else who shares your happiness. Sometimes it's an accomplishment card — coming to a point where you're able to count your blessings and express contentment with your present circumstances.
This extends well beyond financial or material security. It's more about family, lasting friendships and a comfort — in your home and your community — surrounded by people you love. You want to align yourself with a vibration of gratitude, as the Ten of Cups speaks of not only getting what you've "asked" for (via the principles of law of attraction) but also being thankful for all that you've received.
This is not the time to think about what is lacking in your life but rather what makes it complete. And while you don't want to be resting on your laurels, it's important to acknowledge those who are most important to you and who keep your cup continuously full.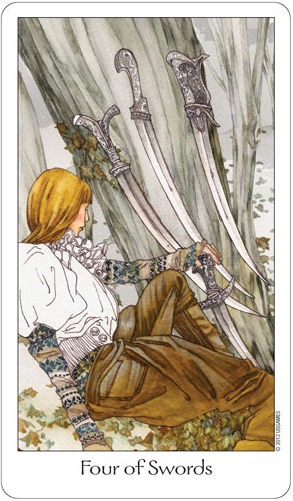 Scorpio: Four of Swords
What is it that's been weighing so heavily on your mind that you find yourself needing to step back a bit to clear your head and recharge your batteries?
The Four of Swords — this version from the Dreaming Way Tarot — is all about "taking a breather," either from all the noise and distractions around you or the intrusive thoughts that have prevented you from calming your mind.
Swords represent thoughts and ideas and Fours are all related to some kind of structure. Sometimes that structure is positive — as in forming a concrete plan — and sometimes it can be limiting, as in feeling boxed in or restrained.
In this case the woman looks pensive. She's half-heartedly chosen one of the four swords but it's clear this isn't her final selection; she's not sure what she wants so she holds back on deciding until she's a little more certain.
This is the essence of the Four of Swords: it encourages you to ponder, reflect and meditate rather than "act." It speaks of detaching from the whirlwind of activity around you and observe rather than participate.
You might also be thinking of getting away from it all. You could be feeling the strains of mundane chores and responsibilities; or maybe you just long to escape from the hustle and bustle of day-to-day life. The Four of Swords encourages you to disengage from all the noise and distractions around you and to find your strength through recovery. It could be as simple as getting out of town for the weekend to relax and recharge your batteries. And it could be as profound as going on a life-altering pilgrimage or spiritual retreat.
If you can get away then by all means do it! But if you can't there are other ways to restore your sanity. Meditation, breathwork, self-imposed silence, etc. — any one of these can help you to de-stress and restore your equilibrium. While you may feel pulled in several different directions this month, you'd be best served to stay calm and carry on, rather than let yourself fall out of balance.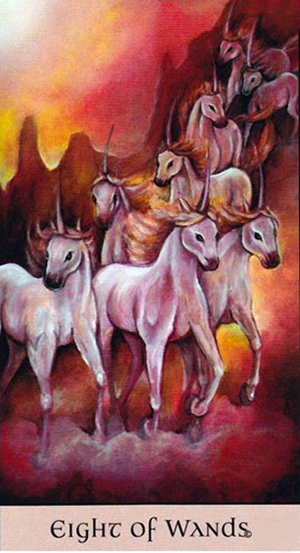 SAGITTARIUS: Eight of Wands
You may have so much on your plate this month that it feels like "rush rush rush" for you as you scramble to get things accomplished.
The Eight of Wands — this version from the beautiful Crystal Visions Tarot — is all about action, progress and momentum. It's about getting things done and making things happen.
It may be as simple as ticking off all the little things on your to-do list this month, and it may be as significant as making great headway on an important project.
While it might feel to you like there just aren't enough hours in the day, you could be surprised when the month is over to see how much you really accomplished.
The Eight of Wands is a high energy card and also sometimes refers to travel. In that respect it relates to being literally and physically on the go. Are you planning a weekend getaway? Or making larger-scale plans for grand adventure? Use this extra energy to make preparations for your trip.
Look at the Eight Unicorns galloping down the canyon on this card. They're raring to go and although not all of them are moving in the same direction, they' all appear to know exactly where they're going.
Your ruling planet (Jupiter) is retrograde, but it's also been involved for some time in a high-energy configuration with both Uranus and Pluto. This aspect will not only see you chomping at the bit to get things moving in other areas of your life. Your career for example or higher education.
Now is the time to make sure your get up and go actually goes somewhere — whether that means tackling a mountain of chores or heading off on an exciting new adventure. Take some time to plan ahead but don't let yourself get caught up in trivial matters. This card speaks more of energy, action and motivation than it does fretting over minor details.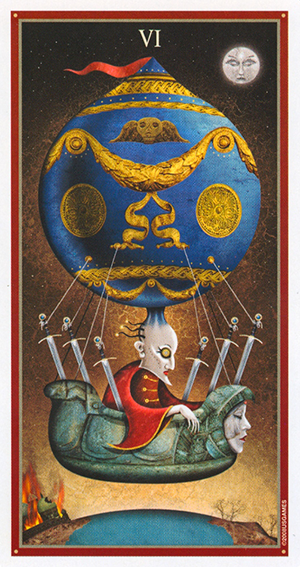 CAPRICORN: Six of Swords
You may be on the verge of making important changes in your life, and in doing so will have to think about what you're taking with you and what you need to leave behind.
This doesn't necessarily mean material things; in fact that's rarely what it means. It's more about attitudes and belief systems, as well as a life you may have built and dreams you may have dreamed that are no longer capable of sustaining you.
The Six of Swords is all about transitions, and in most decks (including this one) it's about leaving something painful behind in an effort to move toward "the light."
You may be moving, changing jobs, ending a relationship, or releasing some baggage that's been holding you back. Although this card refers to change more than it does to endings, there are elements of "clearing the slate" that are a necessary part of this process.
In this version of the card — from the Deviant Moon Tarot — we see the swords used practically and efficiently in the structure of a hot air balloon that is floating toward a better life. The balloon itself emanates from the woman's head, a nice reference to the importance of using one's head to overcome obstacles. The city burns behind her. The face on the front of the vessel is serene, and while the woman herself may be sad, she's not looking back.
This is the message behind the Six of Swords. You may not be where you want to be just yet, but you're moving in the right direction. It also provides clarity and perspective. We may see things we don't want to see — or admit to ourselves — but it's that kind of clarity that motivates us toward change.
Take some time to reflect on where you are and where you want to be heading. This is the first step, courtesy of the Six of Swords, toward manifesting your goals.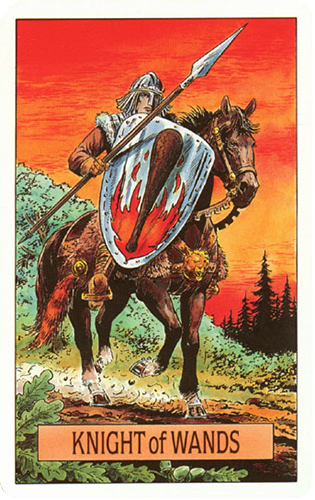 AQUARIUS: Knight of Wands
This month you want to work on gathering up the courage and confidence that are needed to go after your goals.
You may be ready to chase after a ream you'd set aside because you lacked the time, energy or resources to follow it n the past. You may be reading to pursue an interest that's been calling out to you that's no longer possible to resist. Or you may be thinking about something (or someone) you're passionate about that you're only now in a position to pursue.
The Knight of Wands — this version from the Arcus Arcanum Tarot — encourages you to move past your fears and go after your dreams with the attitude that nothing can stand in your way.
You don't want to waiver or second-guess yourself; you want to grab onto opportunities that present themselves without a moment's hesitation.
If this is someone in your life, you will know him by his larger-than-life personality. You'll know him by his act-first / think-later approach to life. And while he may not be off fighting battles, you'll know that if he were, he'd come out on top.
He may he here to teach you the importance of embracing some of these qualities yourself. If so keep in mind the importance of making preparations and pacing yourself so you don't run out of steam.
The Knight of Wands tends to run on adrenalin and has been known to lose interest in projects once they become routine. But overall he's here to teach you how to challenge yourself to set your goals in motion. If you temper them with a enough discipline and perseverance, you just may see them come to fruition.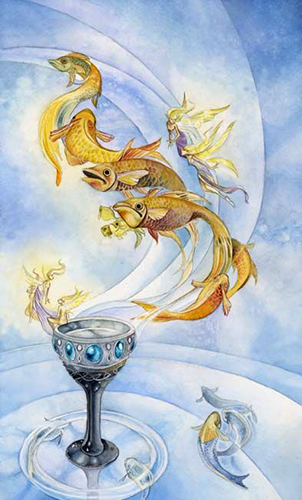 Pisces: Ace of Cups

With Venus retrograding back into your sign this month — in mutual reception with one of your rulers, Jupiter — you should find yourself getting more in touch with your emotions, and perhaps feeling a little more compassionate, receptive and intuitive — all Piscean keywords.
The Ace of Cups — from the Shadowscapes Tarot — depicts this energy beautifully. You can see ripples emanating from the base of the chalice that rests at the bottom of the card.
Waves of movement and energy flow from the mouth of the chalice as well, as small schools of fish and fairies swim along in the currents.
The Ace of Cups is a card of emotional abundance and fulfillment. It's "love" in its purest form: the compassionate, unconditional, all-encompassing form of love that is the essence of the Pisces archetype.
Venus in Pisces speaks of immersing yourself into these realms. There's a pull toward increased creativity, inspiration and intuition as well. If there's a downside to this energy, it's the tendency to lack motivation and purpose. Too much "going with the flow" can see you being carried aimlessly along with life's currents.
You want to keep this is mind when it comes to making decisions and asserting your needs to others. This is a time of giving and receiving: and you can derive as much pleasure through giving as you can through expressing gratitude for all that you receive.
The Ace of Cups represents a bottomless and reflective pool of love, compassion and emotional expression. You want to open your heart and let that love flow both from you and to you — while at the same time keeping your boundaries clearly defined.
—————————–
This month's tarotscopes feature some of Ask the Astrologers all time favorite cards. We hope you like them too! 
Don't forget to check out this month's Horoscopes too!
April 2017 Tarot Scopes
By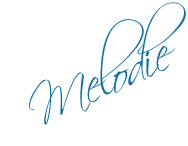 Personal Consultations:
If you would like to schedule a session with me, there are two ways to go about it. You can either purchase time either per minute (via Click4Advisor) or in blocks of 10-, 30- or 60-minutes (via PayPal). If I'm not showing as available, or if you want to purchase blocks of time through PayPal, please feel free to email me.







Melodie 

$3.99 per minute

$3.99 per minute


New Clients:
First Paid Session Only!
3 Minutes Free!



Flat-rate sessions available in 10-, 30- or 60-minute increments: Choose from the menu below: