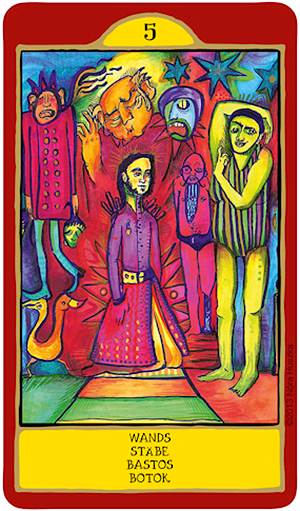 Aries: Five of Wands
With your ruling planet (Mars) involved in a tense aspect with Pluto from the start of this month, you may see your competitive drives being awakened — along with your fighting spirit — for better or worse.
This is a larger than life aspect that tends to magnify all the Martian impulses: anger, aggression, impatience and combativeness. It may see you acting without thinking or ignoring repercussions.
On the up side, this transit can increase your natural confidence and self-esteem. It can see you feeling invincible, to the extent that you're willing to put yourself out there — letting nothing stand in your way. But on the downside it's careless and potentially reckless — especially if you allow your ego to take charge.
The Five of Wands — this version for the beautiful Gypsy Palace Tarot — refers to conflict, strife and competition: forcing your will on others, trying to be heard above the "roar" of opposing viewpoints and struggling against cross-purposes.
You may have to look at where you may have been pushing your views forcefully onto others. You might not even realize that you're doing it, yet your actions can translate as pressure, at at least on some subconscious level. Petty squabbles can erupt into major arguments because no one's actually listening to what anyone else has to say.
The important thing to remember is that most disagreements are based on misunderstandings in the first place. The inability to put ourselves in someone else's shoes –- coupled with the need to be heard — is behind almost every argument out there. And this combination can be a recipe for disaster.
Fortunately all this changes when Mars moves into Leo (on the 12th). In the meantime though, steer clear of incendiary topics (like politics and religion). Use this transit to your advantage, by choosing your battles wisely and in most cases choosing not to battle at all.