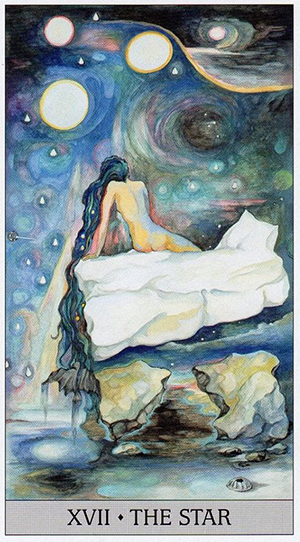 ARIES: The Star

Now is the time to acknowledge your dreams and aspirations. The Star card — this version from the beautiful Japaridze Tarot — is a card of Hope and faith in the Universe. It tells you that in spite of all your trials and tribulations,everything is as it should be, and in the end everything is going to be alright.
You could be feeling a renewed sense of hope about a goal that is now starting to feel more reachable. Or you may be feeling inspired to explore your intuition and psychic impressions.
The Star is all about Universal harmony and synchronicity. It's about being one with the Universe and feeling connected to every single other living thing.
The Star card is associated with Aquarius as the Water Bearer archetype. It is a card of compassion, inspiration, intuition and faith. It also represents a sense of rebirth and renewal. As it follows the Tower card — which is associated with disaster and destruction — it can serve as a welcome refuge or a beacon of hope.
It's the sense we have that everything will be alright — even if we have to push past our own doubts and fears. It's also about transmuting those fears and finding a productive outlet for them. Art, music, poetry, dance, creative self-expression are all very meaningful manifestations of the Star card's energy.
You want to steer clear of negativity this month — yours and anyone else's. Focus on what is right in your world rather than what could possibly go wrong. if you can do that you're bound to come out on top.