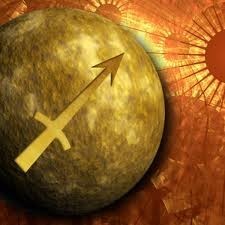 You'll be rolling with the big dogs this month, thanks to some powerful planetary lineups affecting both your career and financial sectors.  Your ruler (Mars) and Pluto are elevated and moving through your professional sector from the beginning of the month.  You may feel like you're under greater public scrutiny, but you should come out smelling like a rose — as these planets are both well placed and well aspected for the better part of the month.  Mercury, Venus, Saturn and the North Node are all moving through your 8th house – the area related to sex, death, joint resources and personal transformation. You'll likely have dealings with each of these areas throughout the month, but these are also favorably aspected.  This is a better time for saving and investing than it is for spending, even in the midst of the Holiday season. A message from afar comes on the 10th, followed by good news on the 15th. You're also in line for some recognition in the work-force closer to the 21st. All in all this month should be favorable for you professionally so work on manifesting your career aspirations as you prepare for the year ahead.
 Moon in Aries:  Dec 20, 21, 22

You'll be spending the better part of the month ironing out the kinks in your relationships, even if that means ending some long-standing affiliations. This includes relationships with friends and family members, as the planets moving through your relationship sector now are forcing big changes to all of your social connections. This area relates to "open enemies," too – so don't be surprised if conflicts with those on your "frienemy" radar come to a head.  Saturn (the lord of karma and the great "task master") has just entered this sector for the first time in 29 yrs.  The Sun, Mercury and North Node are there at the early part of the month but move out – one at a time – by month's end.  This as a time of reaping what you've sewn (karmically), but also of forging new connections. On the 15th, Venus (your ruler) changes signs and moves into a hard aspect with Neptune.  You'll be taking off your rose colored glasses and seeing someone's true colors at this time. Pay attention to the 20th and 22nd too, as a time for resolving old conflicts and salvaging damaged relationships.
 Moon in Taurus:  Dec 22, 23, 24, 25

You'll have your work cut out for you this month – literally – with a preponderance of planets in your work, career and financial sectors. You could be juggling careers, taking night classes or launching one business while punching the clock at another.  These transits are powerful:  you can get a lot accomplished as long as you stay focused which in and of itself may be a problem.  Jupiter is retrograde in your sign right now, meaning that you're likely to experience some missteps and do-overs.  It's also in direct opposition to the Sun at the beginning of the month. You may be distracted by relationships; in particular those you're trying to repair.  You could be attempting to reignite a faltering relationship around the 10th when your ruler (Mercury) moves into that sector.  You could be on the verge of starting something new on the 13th when the New Moon occurs. Or you could be circling back toward an old flame around the 15th when Venus joins in. You'll have to decide where you want to focus your energy, as both of these areas figure prominently and both can interfere with the other.
Moon in Gemini:  Dec 25, 26, 27

Don't let your imagination run away with you this month, especially with those you've developed close relationships with.  A Scorpio stellium in your romance sector and a Mars/Pluto conjunction in your relationship sector can ignite sparks of suspicion, distrust and even outright paranoia.  The good news is that your love life is going to be "active" this month.  You certainly won't be bored. But it's not likely to run smoothly for the first couple weeks, starting on the 1st when the Moon (in your sign) opposes Mars and Pluto, and continuing through to the New Moon on the 13th. Your relationship rulers (Saturn and Pluto) are in favorable aspect and are both in "serious" signs, but it's not the time to force your partner's hand. Any sort of pressuring during this time is likely to backfire, so try to sit back and let things unfold naturally.  You want to take care of your health between the 17th and 22nd as stress-related problems take root if your immune system is compromised. The Full Moon on the 29th falls in your sign and should see you back on top of the world.
 Moon in Cancer: Dec 1, 2, 27, 28, 29, 30

You may feel yourself pulled in two different directions this month with respect to your relationships.  With your ruler (the Sun) in opposition to Jupiter (your romance ruler) at the start of the month, you're unlikely to find yourself on the same page (romantically) with another.  This is reinforced by the fact that these planets are stretched across your friends and lovers sectors. A friend may express a hidden romantic interest or a lover might decide they'd rather just be friends. Either way you're not likely to be in sync with those you're closest to – at least in the early part of the month. A lineup of planets below the horizon may see you running for cover and deciding to stick closer to home until the 10th.  At that point Mercury moves into your romance sector, followed by the New Moon on the 13th and Venus on the 15th. You'd do well to hold off on any new romantic conquests until that time. You might start yearning to express yourself creatively, either through art, music or the written word. Rely on your intuition (rather than intellect) for source material.
 Moon in Leo:  Dec 2, 3, 4, 5, 30, 31

You're doing a lot of social networking this month – whether that relates to online interactions or just bouncing back and forth between all of your ties with friends and family.  You may find yourself called upon to pitch in with other people's projects as you're going to be seen as a bit of a jack-of-all-trades.  The odds of your saying "yes" to everyone and of biting off more than you chew are high, especially between the 3rd and the 12th.  If you're not careful you can wind up getting sick as you're more apt to push yourself to the limit rather than let anyone down. You've got a ton of energy which could be put to use productively if you're quick enough to funnel into something that grabs your interest. An on-line community, website, or volunteer opportunity are all excellent options. This should be a very intuitive period for you as well:  you're seeing how symbols that are reflected in the outside world apply directly to your life (synchronistically) now. Pay attention to your dreams and record your interpretations; they could come in handy for problem solving later on.
 Moon in Virgo: Dec 5, 6, 7

You're taking a serious look at money this month – as in how you make it, save it, spend it and blow it. As the end of the year creeps up on you, you're trying to get a handle on things – either out of personal necessity or due to a developing sense of responsibility.  You've got 4 planets (including your ruler, Venus) moving through your financial sector and your money planet (Pluto) conjunct Mars in Capricorn. As these planets form favorable (sextile) aspects to one another, it's all about putting a plan into action and sticking to it.  You're looking at your values in general – i.e., what's important to you beyond material concerns. You may be surprised at the things you learn about yourself this month. What you have to offer others (as in a assistance or charitable donations) are also considered.  Starting around the 10th, your personal planets move into your communications sector. This would be a good time for taking a class, learning a new language or submitting your work for publication. You can also use this time to join up with others to develop group goals.
Moon in Libra:  Dec 7, 8, 9

You may feel like you're re-inventing yourself this month, with several planets – including Saturn after a 29 year hiatus — lining up in your sign.  At the same time, your co-rulers (Mars and Pluto) join together in your thoughts and ideas sector, heralding a time for deep personal reflection and introspection.  The last few weeks have probably not been easy – with Mercury retrograding through your sign as well as an eclipse, but you're starting to move past all that now. It may feel like a sort of baptism for you as you've come through some treacherous waters and are washed clean at the other side. But Pluto and Saturn are in mutual reception now, as are Mercury and Jupiter (as of the 10th) and Mars and Uranus (as of 25th), making for a smoother transition. Others are looking up to you at this time and may ask you to step into a position of authority.  With Mercury moving into your money sector on the 10th, you may also be in line for a raise. You should see your earlier efforts start to pay off over the last week of the month.
 Moon in Scorpio: Dec 9, 10, 11

"Rise above" should be your mantra this month as you're going be confronted with situations that you have no control over.  Although you're usually a very hands-on person who will go out of your way to help others, you're seeing that you can't always change things and that it's sometimes best to stand back and let them unfold on their own. Between your retrograde ruling planet and the lineup of planets in your "hidden" (12th) house, you'll be less visible socially and much more active behind the scenes. There may be conflict in your personal relationships too – again that Jupiter retrograde – and this is a prime example of how "doing nothing" can be the best possible course of action.  Mercury (your relationship ruler) moves into your sign – and in mutual reception with Jupiter – on the 10th.  The New Moon takes place there on the 13th and Venus joins in on the 15th.  You'll start feeling more sociable and more ready to step back into the limelight around this time.  Even so, these transits have brought you a heightened level of awareness that you'll be carrying with you in the coming weeks.
 Moon in Sagittarius:  Dec 11, 12, 13

You're moving people in and out of your life now with break-neck speed.  You start the month with a line-up of planets — Mercury, Venus, Saturn (your ruler) and the North Node – all in your 11th house: the sector related to friends and acquaintances.   At the same time, Pluto and Mars are moving through your sign and your "personal identity" sector. The combination of these influences makes for some important decisions regarding where you fit into the world (11th house) and how you see yourself (1st house).  Another way of looking at it is drawing a line between where other people end and where you begin. You may have been feeling overburdened with other people's problems and decide you want to eliminate them from your life. But at the same time, new people are coming in – important connections – who could become life-long friends. You're fine-tuning your own sense of self right now, and in doing so will align yourself with those who are more in keeping with the new and improved "you." You're likely to tie up the month with a whole new set of friends, who will see you into the New Year.
Moon in Capricorn: Dec 13, 14, 15

You'll be wearing many different hats this month, and most of them somehow related to your professional aspirations. Whether this means working your regular "day job" and doing something on the side; or putting in the extra hours that are needed to jump start your career, you're likely to be burning the candle at both ends. You may have been standing in the shadows and are surprised to find yourself suddenly whisked into the public arena.  Or you may be the benefactor of someone else's discerning eye.  Either way it's time to step up and receive the recognition that is your due.  If you've taken a risk it's bound to pay off in the form of a promotion or a raise.  These transits are favorable for "business" overall, and that includes your finances. The 13th, 15th and 25th are all important dates: the 13th because your ruler (Uranus) turns direct; the 15th because the Moon enters your sign, and the 25th because Mars enters your sign and forms a mutual reception to Uranus. These are all auspicious aspects and should increase your visibility, while at the same time increasing your public stature.
Moon in Aquarius:  Dec 15, 16, 17

You're learning to have a little more faith in yourself, thanks to the faith that others have put in you in recent weeks. Your ruler, at zero degrees now, has just barely stepped into your sign. And after months of moving retrograde, is finally moving forward for you again. You may still feel like a babe in the woods, but thanks to support from several other planets, you realize you're never alone. Chiron, which is also in your sign, acts as a powerful reminder that you have an impact on those around you and can make things better for them. You may have suffered a recent financial set-back though – thanks to a hard aspect between your financial ruler (Mars) and Uranus in your money sector.  But that's behind you now, although it isn't a call to start spending frivolously. Business should start picking up for you around the 10th, which means your financial situation should also improve. As Mercury, Venus, the Sun and New Moon (on the 15th) all move into your career sector, opportunities in this area should start opening up for you and rounding out your month.
 Moon in Pisces:  Dec 17, 18, 19, 20