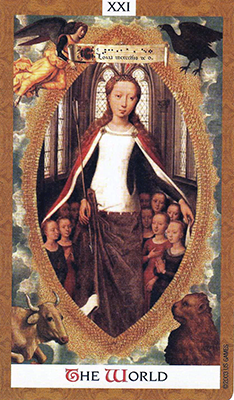 ARIES: The World
This month you may see the long awaited completion of a project you have been involved in or a part of your life you have been wanting to bring together in the best possible way.
This image on this card comes from German painter Hans Memling famous for many great works of art, including this painting of Saint Urslula of the Holy Virgins.
In this painting, Saint Ursula stands shielding her handmaidens against certain death.
The four corners of the card show the images of the four fixed astrological signs: Aquarius, Scorpio, Taurus and Leo.
They're also said to represent the four Evangelists: Matthew, Mark, Luke and John.
This card is about using all of your gifts to reach out and accomplish your goals.
As the last card of the Major Arcana, it symbolizes completion.