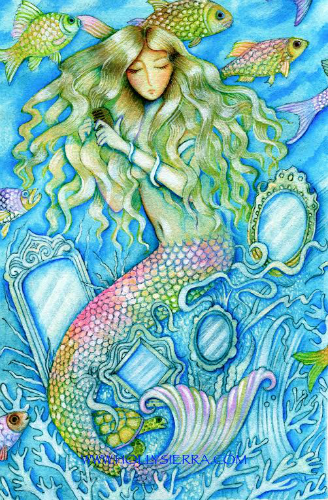 Aries:  Four of Mirrors 
This month is all about choices and those choices and decisions you may be putting off whilst, perhaps, you wait for something better to come along.
The mirrors in this card stand for the suit of cups and from the pattern they are displaying in the water also show that your thoughts, decisions, choices may be changing like the tide… one day you are high on an idea and the next day you are low and no longer want to go along with that idea.
I don't blame you… from the looks of things where you are sitting it looks pretty comfortable and calming.
There are no intense emotions and everything is running along quite smoothly. You feel at "one" with your environment and see no use in fighting against the current in making changes to your situation. Change is coming though, whether you want it or not.
The sea turtle which is about to brush against your tail is a symbol of you being given a slight nudge in making changes.
You can go back to your dream world, keeping your eyes shut and focused on pleasant thoughts and sensations — or you can face what's coming head on.