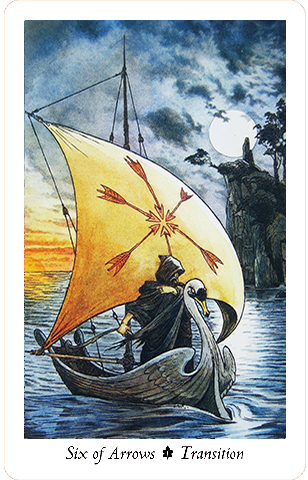 Six of Arrows
As March comes to a close it's a good time to be thinking about where you want to be heading in the coming weeks — mentally, spiritually, physically and emotionally.
The Six of Swords (called Arrows in the Wildwood Tarot), is a card of transition. Moving from one chapter in your life to another, which does require leaving something behind.
You may be moving, changing jobs, ending a relationship, or releasing some baggage that's been holding you back. Although this card refers to change more than it does to endings, there are elements of "clearing the slate" that are a necessary part of this process.
In this version of the card, we see a lone sailor navigating his tiny craft through uncharted territories. His sailboat is fashioned in the shape of a swan, and sails effortlessly toward its new destination. He's leaving behind the life he's known and moving toward a new existence.
In traditional Rider Waite versions of this card, a figure is being ferried across an expanse of water, hunched over and hidden from view. But in this rendition the sailor stands at the helm himself. He's steering his own vessel, and thus taking charge of his own destiny.