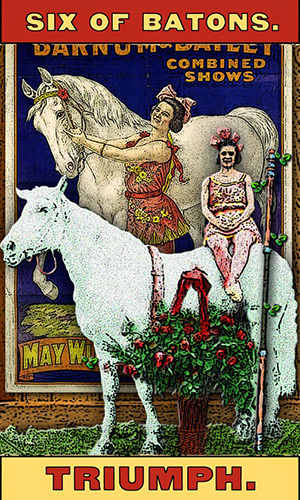 Six of Batons
Sometimes you just want to go with something and sometimes you just want to sit back.
Today is a bit like that… the need to choose how far you want to go with a situation/project or something in your life or how much you want to hold back and see if the situation/project takes care of itself.
It may be a dream you are having on what you wish to do with your life and you need to "pluck" the details to what your next step is out of your imagination.
It may also be that you are not quite ready to pick up the baton and run with it but rather know that your stance in "sitting pretty" will work for you. Either way — with the Victory card, ie Six of Batons (Wands in many decks) — you are a winner.
This Six of Batons is called "Triumph" in this deck. It refers to the sense of pride and glory that goes with a job well done. Still you'll have to strike a balance between sitting back on your laurels and taking the reigns and running with them.
Do not get too far ahead of yourself. The white horse is looking a bit anaemic to say the least and whilst it still has a lot of strength in it to be holding your weight you do not want to push your luck too far.
At the moment it is working… the roses are blooming and you are "sitting pretty" but this may not always be the case.