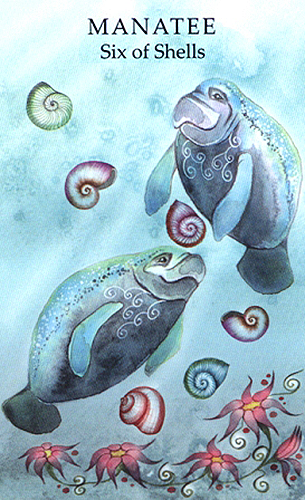 Manatee
Has it been all work and no play for you in recent days? Or have there been too many responsibilities weighing on your shoulders and not enough letting your hair down and just having fun?
The Six of Shells —  Animal Wisdom Tarot's version of the Six of Cups — says it's time to do just that. The Manatees in this card aren't thinking about all the work piling up at the office or all the emails they have respond to at home.
No they're fully engaged in a game of catch, while the rest of the world floats by around them. This is the essence of the Six of Shells. Having fun, being playful and immersing yourself in the present rather than fretting about the past.
There's a childlike innocence and wonder associated with this card. In fact children may figure prominently for you today and the thoughts of your own childhood may be triggered by their presence. If so consider it a call to observe their ability to live in the moment and follow in kind.
The Manatee as an animal totem speaks of companionship, trust and gentle play. It encourages you to take turns, share, and accept those around you for who and what they are.
The Six of Shells is all about finding pleasure in the simpler things in life. It says it's time to kick your shoes off and have fun rather than getting bogged down with responsibilities. All those will be exactly where you left them when you come back to them later on, so for now put them all aside and try to recapture the spirit of those carefree days gone by.