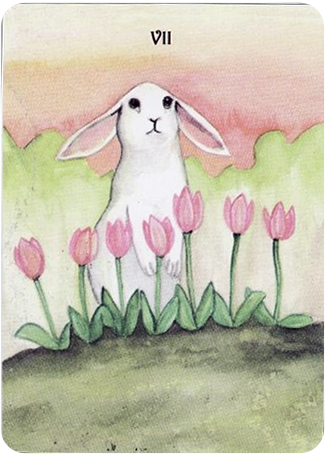 Seven of Tulips
If you aren't careful with what you are doing today you may just inadvertently make a huge mistake.
If you have papers to sign, contracts to read over, etc make sure you do so twice and don't sign anything that you don't understand.
The Seven of Tulips can be a card of confusion. It can also show that you are away with the fairies somewhat and not completely grounded. This is in keeping with today's Venus / Neptune square, which can turn wishful thinking into later regrets.
Here we see a cute little rabbit picking pink tulips whilst at the same time not looking at what she is doing and also looking for all the world as if she has her head in the clouds (literally).
The best that can be said is that if there is a middle ground or middle of the road stance for you to take on something today then do it. Don't rock the boat and don't go pushing into any arguments that you don't have any right to be in.
If someone is rocking your boat do not let them goad you. Be on the lookout for the wool being pulled over your eyes too as you may be on the receiving end of a trick or two or from someone who is trying to get the better of you.
If you have a chance today to put your feet up and relax it is a great day to let your imagination soar. You can get through quite a lot by just sitting back and not focussing too hard on any one thing.
Remember today is not a day about "doing" it is a day about doing nothing and at the same time allowing others to not take advantage of you.