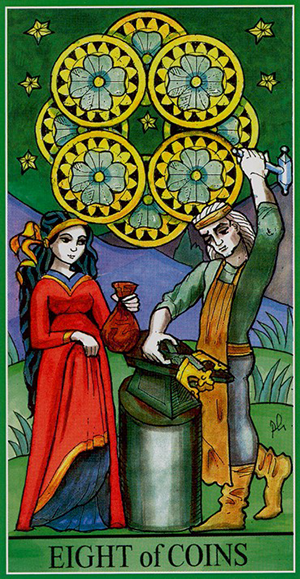 Eight of Coins 
Mercury conjuncts Jupiter today, just before it moves into Virgo — and just before Jupiter does the same, for the first time in 11 years.
These transits are favorable for hard work, discipline and organization. This is beautifully referenced in the Eight of Coins — as seen here in the Dame Fortune's Wheel Tarot version of the card.
The Eight of Coins is known as the "apprenticeship card." It refers to developing craftsmanship and expertise; putting your all into a project and being satisfied with the results.
You take pride in your work — whether it's something you're in the process of learning or something you've done a thousand times before.
The Eight of Coins is all about dedicating yourself to perfection and craftsmanship. It relates to fully investing yourself in a skill or trade. It's not about seeing what you do as drudgery, but being totally engaged in the process. In that respect it's not "work; it's a labor of love.
That doesn't mean there's no return on your investment. As you can see in this image the man is being paid for his work. But his focus is on his craft rather than the sack of money coming his way, which is as it should be.
The Eight of Coins can also refer to shifting gears — as in finding your calling at a point where you might have already considered yourself well on the road to success in some other profession.
Your challenge today is to embrace that aspect and apply it to your work. Whether that means improving upon something you're already good at, or learning to master new skills. Like the figure in this card, it may be a stepping stone to something bigger and better down the road. But taking pride in your work and honing your skills now will see you one step closer to those goals.