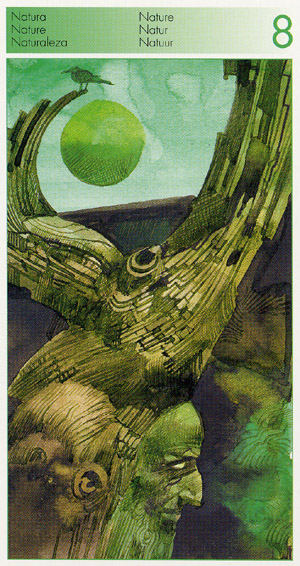 Eight of Nature
The Moon's North Node moves into Virgo today, for the first time in around 19 years. Because the Nodes are always in polarity with one another, this moves the South Node into Pisces.
One potential manifestation for the Nodes moving into Virgo / Pisces is a collective shift in consciousness toward toward service to others, which begins with an understanding of ourselves. As in where we fit in in the world as mirrored through our own perceptions.
The Moon's Nodes are naturally retrograde, which means they move backwards (or counter-clockwise) through the zodiac. There's emphasis on clearing up past life karma through this retrograde motion, and creating new karma in the process.
The Eight of Nature card is the Tarot of Origins version of the Eight of Wands. This version focuses less (way less) on the movement and activity usually seen in the Eight of Wands and more on introspection and soul searching.
There are also elements here of history, progress and evolution. Notice the man's face which has been carved into the driftwood. One side has a primate-like appearance and the other depicts the visage of an ancient man. The driftwood curves upwards and branches off in two different directions, one side circling the rising sun and the other off into unknown regions.
The Eight of Wands is known as a messenger card, and notice the tiny blackbird perched on the branch. Is he bringing a message to you or ready to deliver one of your own? The blackbird as an animal totem is tied to consciousness, the higher mind, mystery and magic.
Today is a day for unraveling secrets of your own. Looking back over your past, retracing your heritage, and thinking about the steps that have been taken to lead you to where you are today. Pay attention to messages you receive during this time and be mindful of those you send out to others.