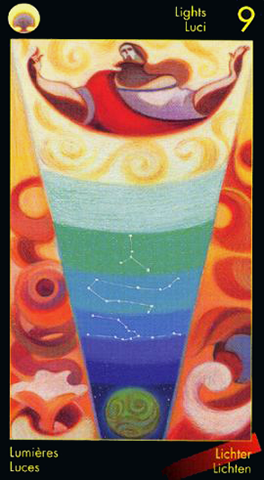 Nine of Lights
This can be a rewarding and fulfilling day for you. The Nine of Lights provides you with opportunities to count your blessings, thank your lucky stars and be witness to miracles taking place all around you.
This card (referred to as the Nine of Cups in most decks) refers to abundance, prosperity, happiness and fulfillment. it's a card of gratitude and wonder; it speaks of being present in the moment and willing to receive all that the Universe has to offer.
In this version of the card we see Dante (from the Divine Comedy's Paradiso volume) ascending into the Eighth Heaven — the Sphere of Fixed Stars. We see him rising above the earth, through the clouds and sky, past the planets and constellations, and on into Heaven. His lifts up his arms — in wonder and gratitude — basking in the glory that surrounds him.
Here's a simplified summary of this section, from the Schmoop.com website:
"Beatrice and Dante ascend to the Eighth Heaven, sphere of the Fixed Stars. Dante gazes down on Earth and realizes how small and petty it is. They witness the coronation and re-ascension of Mary and Christ into the Empyrean. St. Peter examines Dante on faith. Dante conveys his hope of returning to Florence one day to be crowned as a poet. St. James examines Dante on hope. Dante goes blind. St. John examines Dante on charity. Adam answers Dante's four questions. St. Peter denounces corrupt popes."