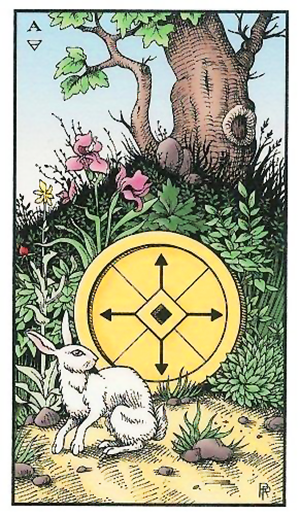 Ace of Coins
Mars moves into Libra today and brings with it many opportunities to start something new.
Are you thinking of launching a new business or starting a new financial venture? Mars relates to action and energy and while its placement in Libra can have you struggling with decisions about what exactly you want to do in the first place, it does mark the onset of a new cycle.
You may be looking back over your shoulder though, like the rabbit in this card — from the gorgeous Alchemical Tarot.
The Coin in this deck is fashioned like a compass with four arrows pointing in different directions. This ties in with the Mars in Libra conundrum. Which way do you go? Which path do you take? There are many different options and you may be drawn to every one.
The Ace of Coins is says it's time to think about what you value, which extends to well beyond money and material things. It says it's time to look at what you put out there and what you get back in exchange. Like the rabbit looking over his shoulder, you may have to clear up some unfinished business, but there's no time like the present for that.
The Ace of Coins encourages you to participate in your own energetic exchange. Whether it's time, money, energy or aid, all of us have resources at our disposal. Put yours to good use this today and see what the Universe sends back.