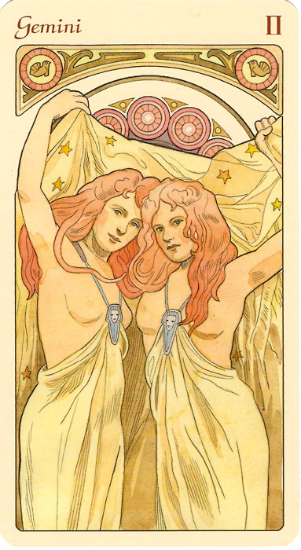 Gemini
As the Sun moves into Gemini today it is a good time to look at the duplicity in your own nature or that of someone around you.
We all have different layers to our persona and do not show these characteristics to everyone we meet.  In fact, only a few of us can say we are able to share 100% of ourselves with others and even then… there remains a question mark on whether this is the absolute truth.  Perhaps there is a percentage of our real selves that we hide even to ourselves.
Enter the Sun into Gemini… a card traditionally associated with that of the Lovers in most tarot decks.  A card of love but is it love of another or love of the reflection we see of ourselves when we look in the mirror or into our own hearts as we try to fathom out what is truly real for us?
On the surface the image on this card looks to be of 2 identical women but look closely and you will see tiny differences including weight, facial asymmetry, position of hands and stars and my favourite… hair under the armpit… lol.
What may be obvious to you as you look in the mirror at your identical image may not be obvious to other people.
Others may perceive you differently to how you perceive yourself and those little flaws which matter to you are not such a big deal to them.  In other words… it's time to accept yourself as you are… flaws and all.  What is your "ideal" may not be the "ideal" of others.