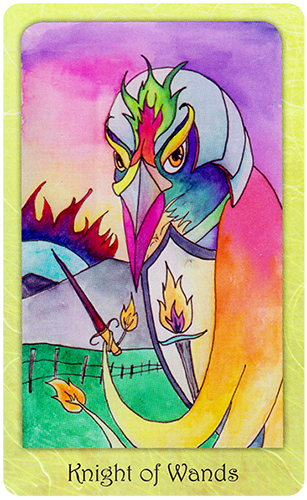 Knight of Wands
Is there something you have been waiting for perhaps news or the outcome of a problem?
It may be that you are coming to the end of your patience and need answers now rather than waiting it out and letting things take their course.
In this Knight of Wands there is a fire over the heart… depicting impatience and passion. He'a also wielding a Sword in his hand — indicating action through words and thoughts.
You may be raring to go and get things accomplished, especially if you took a break with yesterdays Four of Swords.You may also find yourself wanting to speak your mind, and not wanting to filter your words or hold back.
By all means you want to go after what you want. The Knight of Wands in this card is not lacking in confidence or determination, and if this is you you'll stop at nothing to meet your objective. Try to exercise some discipline though: If you rush into something with blind determination you you may miss important facts.
The Knight of Wands may also represent a person in your life. Someone who's pushing you for action and/or answers. If so then take the steps you need to not be swayed by their impatience. They may not be telling you everything, so listen and take the time to read between the lines.
If you're feeling impatient or aggressive today, try working off some of that energy constructively. You won't make much headway if you let your ego get in the way of your goals. You can channel all that gusto into into a favorable outcome. But only if in the process of going after what you want, you're willing to see it through to the end.