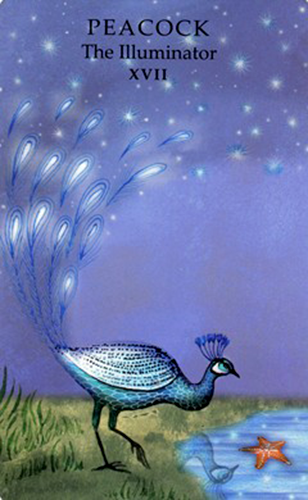 The Peacock
As Venus trines Neptune today, it's a good time to acknowledge your dreams and aspirations.
You could be feeling a renewed sense of hope about a goal that is now starting to feel more reachable. Or you may be feeling inspired to explore your intuition and psychic impressions.
The Peacock is the Animal Wisdom Tarot's version of the Star card and is called "The Illuminator" in this deck.
Illumination is one of the hallmark traits associated with the Star card. It also ties in beautifully with the Venus / Neptune trine, which reinforces the Star's association with inspiration, hope, harmony, faith and serenity.
The Peacock in this card gazes at his own reflection on the surface of a tranquil sea. The Stars in the night sky are also reflected, and the Peacock's tail feathers curve up to them and glow just as brightly. The "Star" in this card is a starfish just below the surface.
The Star card represents a sense of rebirth and renewal as well. As it follows the Tower card — which is associated with disaster and destruction — it can serve as a welcome refuge or a beacon of hope. It's important to also remember the healing and therapeutic properties of the Star.