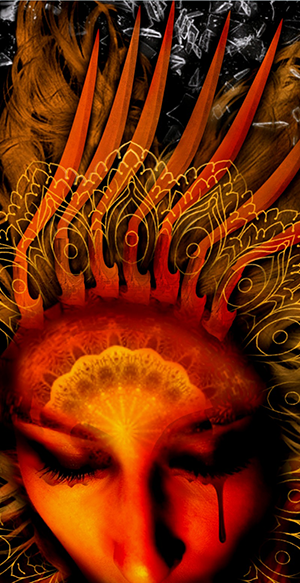 Seven of Swords
You may be second-guessing yourself today or looking at recent events with a tinge of regret.
The Seven of Swords — like all Sevens — requires you to evaluate all the different sides of a complicated situation, and arrive at a solution that causes the least amount of distress.
It can refer to a moral dilemma or one with no easy solution, such as a decision that favors head over heart.
The Swords in this card are double-sided. On one end they're sharp and curved up toward the heavens. And on the other end they're dull and crooked as they emanate from the woman's head like a crown.
The question is whether they're pointing up — indicating ideas, decisions and strategies — or pointing down — indicating worry, anxiety and stress.
The reds and golds can indicate passion, but they can also represent fear and shame. It's probably the latter, given the mournful look on the woman's face.
But there's a saving grace here too. Notice the elaborate designs on the overlay around her face. It tells us there are solutions, but that they require a level of intricacy and creativity to unravel.
Also notice the mandala glowing around the region of her third eye. We can see that she does have access to a vast reservoir of inner knowledge if she'd only open her eyes.