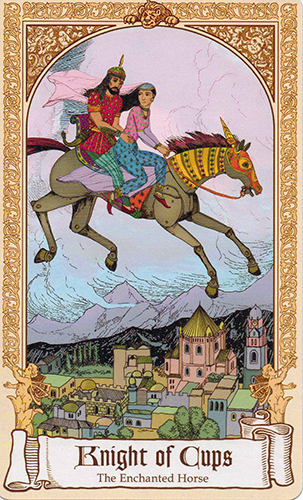 Knight of Cups
Today would be a good day to put all rational thinking aside and indulge instead in your wildest romantic dreams and fantasies.
As with all the Court cards, the Knight of Cups may be someone presently in your life (or someone resurfacing from your past), or he could represent certain facets of you or of events taking place in your life.
If he's someone in your life now, you will know him by his gentle, soft-spoken demeanor. He's a lover not a fighter and can therefore be a bit passive. He's governed by his feelings and may be given to flights of romantic fancy.
He often appears as a messenger — professing his feelings, offering an invitation or making a proposal. An unexpected contact or message, happy news from a loved one, or someone reaching out to you from your past are just a few examples.
In this rendition of the card we see a Knight and a fair maiden on an ornate wooden horse, flying high above his Kingdom. In the story that is the basis for this card — found on the Sacred Texts website — the horse was a gift to the King of Persia, meant to procure his daughter's hand in marriage. Through many ups and downs, the story continues with the Prince (her brother) traveling the world — and finding love — on his wayward horse.