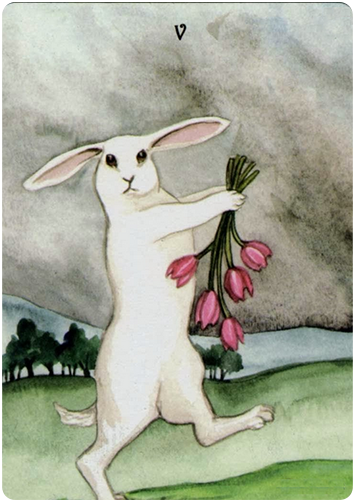 Five of Tulips
You may be dealing with feelings of loneliness and isolation today. Like the poor little rabbit in this card — from the gorgeous Rabbit Tarot — you may have a hard time seeing what's right in the world around you as you find yourself focusing on what's wrong.
The Five of Tulips (Cups in most decks) refers to feeling left out. You might feel like you're all alone and haven't got a friend in the world. Or you may feel like you've been dismissed by those you have.
The Five of Tulips can indicate a sense of loss or disillusionment. A betrayal. Feeling rejected or shut out. Or like the rabbit in this card, left out in the cold.
Notice the tulips the rabbit holds in his hands. They're upside down, indicating a reversal of the sentiments you'd usually expect to accompany a bouquet of flowers. Where there should be joy there's sorrow, where there should be promise there's despair, and where there should be contentment there's regret.
Remember though that you do participate in your destiny. While you may not have any control over what goes down, you do have some say in how it all plays out.
Your heartache can become a powerful conduit for healing. It can also become a gift that you pass onto others: the gift of empathy. Your own experiences lead to a deeper understanding of what others may be dealing with, and can translate into compassion, understanding, forgiveness and unconditional love.
If you're in a relationship now, ask yourself whether you're happy with where things are headed? Are you seeing things clearly or are you too focused on what's wrong to consider what just might be right? You may have to face some very painful realities and make some very difficult decisions.
If you're not currently involved, chances are good that you're still healing from a recent loss. You may be mourning a relationship's demise, or you could be licking your wounds over a painful rejection. Either way, you could benefit from seeing the glass as half full this time and being willing to get back out there and drink from it.