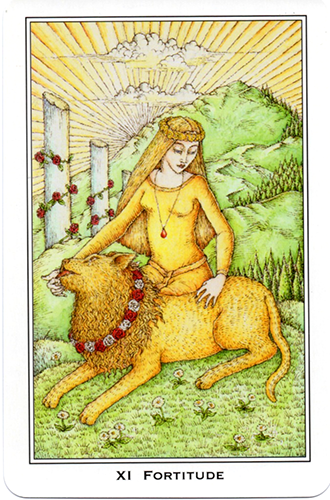 Fortitude
Today's card — Fortitude — refers to the inner reserves of strength, courage and discipline that are called for in moments of fear or uncertainty.
You may be feeling hesitant about something that threatens to disrupt your daily routine. Or you may be trying to put on a brave face and tackle something that scares you or takes you outside of your comfort zone.
Interviewing for a job. Making a presentation. Confronting an adversary. Expressing emotions. In other words, anything that's been known to trigger fear or anxiety for you in the past.
This card is called "Strength" in most decks. It refers to the mental, emotional and spiritual aspects of strength, such as willpower and self-restraint.
It's about taking charge of your life and taking back your power — over your fears and compulsions and ultimately your destiny.
Look at the images in this card. Notice how gently the woman strokes the lion's back and how he reciprocates by lapping at her hand.
This is the essence of the Strength card. It's about taming the beast within while at the same time lauding its virtues.