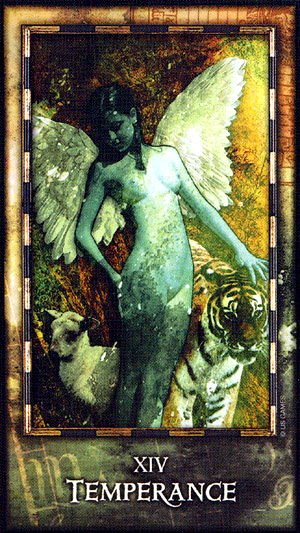 So many of us struggle with finding balance in our lives, whether it's between head and heart, career and family, or material vs. spiritual progress, etc.
The Temperance card encourages us first and foremost to seek that balance and to find our personal "Center."
In the Archeon Tarot, we see an angelic figure: youthful, graceful and innocent.
She stands watch over two totem animals, a lamb and a tiger.
She appears to be tending equally to both of her charges.
The lamb represents peace, harmony and gentility.
The tiger represents passion, strength and a wild ferocity.
Her manner of tending them is different for each.
She keeps a cautious hand above the tiger at all times while watching over the docile lamb.
She maintains her sense of balance and equilibrium, all the while staying present in the moment.
Ask yourself in what ways taming the inner beast and activating the inner lamb can most benefit you now?