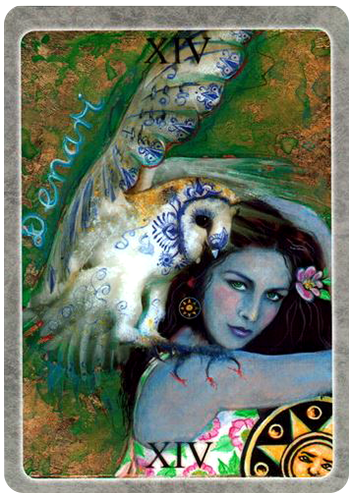 Goddess of Pentacles
Today is a good day to review your earnings and expenses and start thinking about taking charge of your financial security. The Queens are represented as Goddesses in this deck and Pentacles refer to Earth signs, all of which are powerfully referenced in this card.
There's a mystical and magical element to the Goddesses in the Secret Language of the Birds tarot. Goddesses — which are actually a step up from the Queens in traditional tarot — are portrayed as shape-shifter entities, a hybrid between bird and human. Notice the Owl latching onto the Goddess's shoulder in this card, and even drawing blood.
Owls are known for wisdom, caution and observation — qualities which are tantamount to the Queen of Pentacles archetype. She is practical, earthy and careful — not just with her possessions but also her need for security and self-preservation.
The Sun face on the coin in the bottom corner of the card (and the smaller version dangling from her ear) reminds us of the importance of financial security.
The flower behind her ear (and on her dress) remind us that beauty and sensuality are key components to her happiness and well-being.